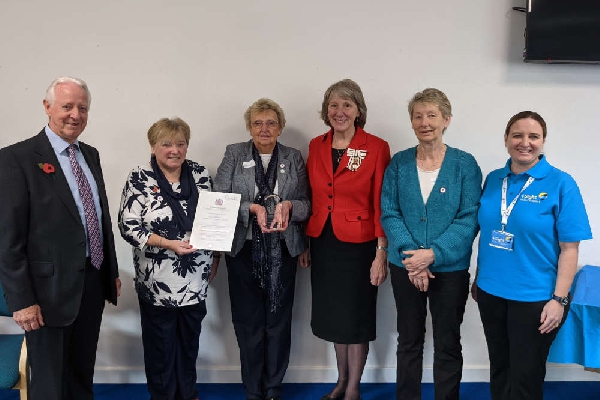 West Sussex charity 4Sight Vision Support was presented with The Queen's Award for Voluntary Service by Her Majesty's Lord-Lieutenant of West Sussex, Mrs Susan Pyper at a special ceremony on Monday 8 November.
4Sight Vision Support announced the receipt of this prestigious award, which aims to recognise outstanding work by volunteer groups to benefit their local communities, in June of this year.

The award was created in 2002 to celebrate The Queen's Golden Jubilee and recipients are announced each year on 2 June, the anniversary of The Queen's Coronation. The charity was doubly honoured to receive an additional 'Special Recognition – Covid 19' Commendation, awarded to those who provided impactful support to the community in response to the pandemic.

The Award Ceremony held at the Shoreham Centre was attended by 4Sight Vision Support staff, volunteers and Trustees, as well as Deputy Lieutenant Peter Webb; Vice Chairman of WSCC Cllr Sujan Wickremaratchi; Cllr Ann Bridges, Vice Chairman of Adur District Council and Dr Tim
Fooks, former High Sheriff of West Sussex. CEO Kirstie Thomas and Chairman of Trustees Norman Boyland welcomed Mrs Pyper, who
introduced the Ceremony and congratulated the charity and its volunteers on achieving the award – one of only four charities in West Sussex to do so this year – after a rigorous process of nomination and selection.

Mrs Pyper asked the Deputy Lieutenant to read the certificate bestowing the award – a message directly from Her Majesty the Queen – before presenting the award crystal and certificate.

These were received on behalf of the charity by long-standing volunteers Gill Calderhead, Jean Hall and Margaret Russell, all of whom had also been heavily involved with keeping in touch with members throughout the pandemic.

Thanking Mrs Pyper for the award, Norman Boyland said, "We simply could not function as effectively and reach as many people experiencing sight loss across the county without the tireless support of our volunteers.
Their commitment cannot be measured simply in terms of time and cost equivalence – all our 250 volunteers should be rightly proud of the part they each played in achieving this award and we thank them all sincerely for their ongoing work across all
our services."

Kirstie Thomas added, "I am so excited to be here to celebrate this tremendous achievement by our volunteers. All at 4Sight Vision Support are truly honoured to receive this Award."

After the ceremony, The Lord-Lieutenant spent some time speaking with volunteers and staff about their roles, and in particular the support offered during the pandemic.
The event closed with a celebratory lunch.

In May 2022, two volunteers will attend a garden party at Buckingham Palace (dependant on any restrictions at the time), along with other recipients of this year's award.