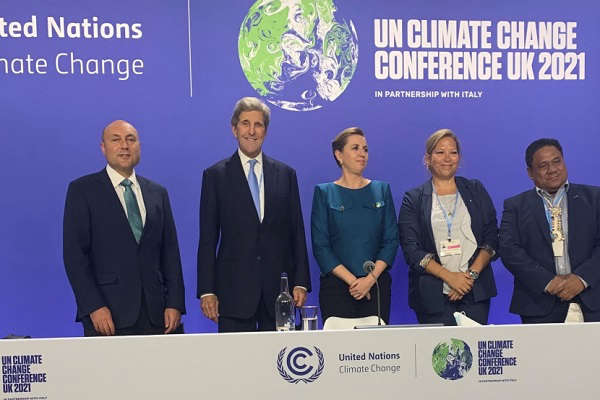 Local MP Andrew Griffith, has said that "there is still all to play for" as the 2021 United Nations Climate Conference in Glasgow enters its second week.
The local Member of Parliament has been in attendance at the conference in his role as the UK Government's Net Zero Business Champion and he represented the United Kingdom on the signing of a Declaration on Zero Emission Shipping alongside former US Secretary of State and US special Presidential Envoy for Climate, John Kerry, and the Danish Prime Minister, Mette Frederisken.
At the conference, known as COP26, the Government has called on nations around the world to take action to honour the goals of the Paris Agreement to keep a 1.5 degree limit on temperature rises within reach. This will require setting ambitious targets to end deforestation, speed up the move to clean electric vehicles and consign coal power to history. Already, highlights have included 190 nations pledging to phase out coal, 100 nations committing to ending deforestation by 2030 and 80 countries pledging to cut methane emissions.
The second week of the annual Climate Conference will see negotiations and talks around the scale of carbon reductions. The outcome will not be known until the end of COP26 as negotiators work through the night at the final weekend.
Andrew Griffith MP said
"This is the largest and most ambitious international summit we have ever hosted. Almost every country on Earth is here in Glasgow. The United Kingdom has taken action with a world leading commitment to reduce emissions by 78 per cent by 2035. This summit is about ensuring that level of ambition is also shared by all nations for the benefit of future generations.
"In the second week of this conference, there is still all to play for. We have already seen tremendous progress, including The Global Methane Pledge, commitments to end use of coal and net zero pledges by nations around the world. This is in addition to the countless commitments from global businesses to take action on climate. But, there remains more to be done and I am hopeful we will continue to see important progress this week."