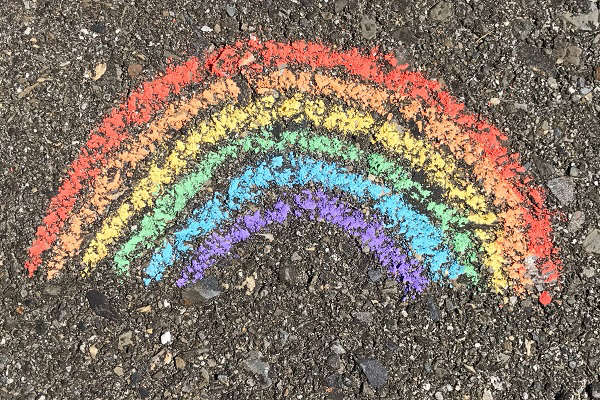 An innovative public art project that has brought together teams of Year 9 students from The Angmering School with a professional artist and local engineers is due to open to the public next month.
On Wednesday November 24th from 2.30pm the new sculptural bench, featuring a large rainbow and a friendly dog will be unveiled in its new home outside Angmering Community Centre.
Sunflower Dog & Rainbow Bench was the winning design as voted by the public and assessed by Parish Councillors and representatives from Pallant House Gallery and the youth arts charity Artswork. The Parish Council has worked closely to support students' inclusive ambitions for the design, and has invested in funding, with the The Angmering Heritage Trust, for the creation of a new pathway, ensuring the bench is accessible to all.
Participating students from the school will be celebrated at the unveiling event alongside a performance by the school. The local community as well as representatives from all the project partners are invited to attend.
The project, led by Artswork as part of their Arun Inspires programme, has worked to bring together a range of stakeholders.- the local and District Councils, local secondary students, engineers from local firm S I Protech and regional visual arts specialists Pallant House Gallery to pioneer a STEAM (putting the 'A'rts into STEM (Science, Technology, Engineering and Maths) learning approach to the project, run over two terms at Angmering School, including continuing remotely during January's lockdown.
The commissioned artist, experienced public artist Tim Ward (Circling the Square), supported students to explore a full research and design process, which culminated in 18 designs all of which are showcased on the back of the sculpture.
Councillor Jacky Pendleton, Chair of Residential and Wellbeing Services at Arun District said:
"I'm delighted that the Council has been able to support this fantastic project and like everyone else involved, I'm excited to see the end result!"
The project has been commissioned as part of Arun Inspires, a 3-year programme of cultural investment transforming the life chances of children and young people across the District of Arun . Delivered in partnership with Arun District Council, it seeks to invest in new high-quality cultural opportunities for Arun's children and young people. The programme is led by Artswork with support from Arun District Council using Section106 funding from the nearby Roundstone Lane development.
Artswork is a national charity which empowers children and young people through arts and culture to find their voice, become skilled leaders and achieve their aspirations. Building strategic alliances, Artswork specialises in advocating for change and delivering positive outcomes for children and young people through local, national and international partnerships.