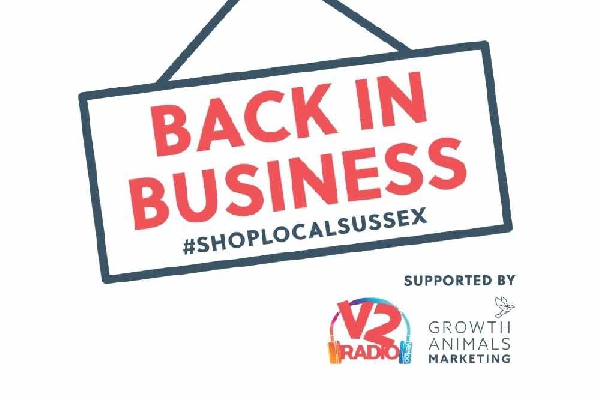 The team here at V2 Radio are using their platform to help independent businesses bounce back after COVID-19, supported by Sussex-based marketing company, Growth Animals.
With light at the end of the tunnel for local business owners and a glimpse of normality on the horizon for customers, Sussex-based radio station, V2 Radio, have partnered with local marketing company, Growth Animals, to encourage the people of Sussex to #shoplocalsussex in order to support independent local business trade.
The Back In Business campaign launches Monday 29 March with the aim of celebrating and highlighting the vast array of small and independent businesses we are lucky enough to have across the county.
Now more than ever it's important that our local communities rally together to help boost the Sussex economy.

We know from UK Government reports that choosing local supports our communities in many ways, including making a real difference to businesses owners recovering from lockdown restrictions and reducing our carbon footprint, as independent businesses tend to source products locally.
By pumping money into the local economy, this helps maintain jobs and create new work opportunities. Plus, a thriving high street is key to boosting the potential of our villages and towns, which generates revenue to fund council services such as libraries, parks and roads that benefit communities across the UK.
The Spirit of Sussex, Alex Berry, Managing Director of V2 Radio, is keen to use the V2 platform, which reaches thousands of listeners across Sussex each month, to support local commerce, as he and the V2 team know first-hand the challenges faced within the past year.
Last year's rebrand of West Sussex's number one commercial radio station, Spirit FM, saw many thousands of local people unhappy with the
loss of their local station, where he and the V2 team had worked previously.

Alex said: "We were adamant that the sense of spirit, morale and community support lived on through the means of proper local radio. And now we've started to achieve that, we can use our platform to support other local businesses and charities with their messages".

Tenacious about ethical business growth V2 Radio chose to partner with Sussex-based marketing company, Growth Animals, on the Back In Business initiative after hearing the story of how they too launched during the pandemic, and how that drove their ethos of accelerating business growth through clever and conscious ethical marketing.
Chris Thornhill, Growth Animals Co-Founder & CEO, explained "the inspiration to start our own marketing business came from our work with the charity, Dementia Support at the start of the first lockdown.
Working with this not-for- profit organisation shaped our ethical marketing approach, and cemented our values around helping businesses to grow both their commercial impact and social impact."

How Sussex businesses can get involved:
As well as benefiting from features and shout-outs across the airwaves, Sussex-based independent businesses can actively get involved in the campaign by visiting V2 Radio's website, and listing themselves in the free local business directory. Here, business owners can nominate themselves to donate prizes for competitions promoted live on air, and download the marketing pack developed by Growth Animals, with ways to spread the word about their own business as part of the campaign, including across social media
and using #shoplocalsussex.
Jason Grant, Owner of Copper Pan Fudge Company in Arundel said: "A thriving local high street is key to boosting our villages and towns across Sussex".
Tim, Proprietor of Tim Large Maintenance in Chichester said: "Shopping local helps keep money into the local economy which in turn creates local jobs".
The Back To Business campaign launches to the people of Sussex on 29 March 2021 during Milly Luxford's Wake Up With Milly show and will continue throughout the summer.