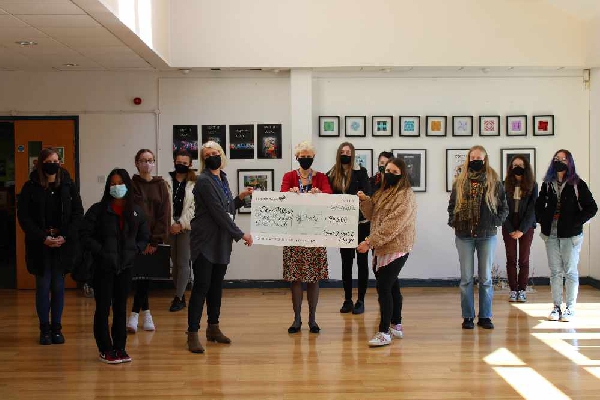 Photo by Chichester College
Art and design students at Chichester College have raised nearly £1,000 for a local homeless charity.
The students designed a range of products as part of their coursework, all themed around 'Urban Jungle' – which were sold in the college's shop before Christmas in aid of Stonepillow.

The range raised £943 for the charity and – following the national lockdown – the students were delighted to be able to present a cheque to the charity recently.

Kasha Sawosko, lecturer in art & design at Chichester College, said: "I was really impressed with the way the students worked and embraced this social enterprise project.

"They were briefed to create products based on the theme 'Urban Jungle' – the products needed to be contemporary, trendy and well researched and it was fantastic to see the way their creativity shone through.

"We had a whole range of high-quality items on sale, including hoodies, jewellery, lampshades, face masks, flowerpots and tote bags – all handmade by the students and the products flew off the shelves.

"I'm extremely proud of my students."

Jojo, one of the students involved with the project, added: "It was great to see the enthusiasm and interest in our work from students and staff at the college.

"I developed a lot of confidence in my skills and seeing people genuinely interested in buying out work gave me a profound sense of worth."

Shelagh Legrave OBE, Chief Executive of the Chichester College Group, is the Chair of Trustees at Stonepillow and received the cheque on the charity's behalf.

She said: "Speaking on behalf of the charity, we are extremely grateful to the students for their hard work, their dedication and generosity.

"An incredible amount of time went into creating a truly fantastic set of products, which raised a fantastic amount of money for Stonepillow.

"It has been a difficult year for everyone, but we see kindness and community continue to shine through – and this is just one example.

"This money will be incredibly well received and will go towards helping homeless people in the Chichester area.

"As the college group's chief executive, I'd also like to add how proud I am of their work and yet another example of how our colleges play a huge role in their communities."

To find out more about art & design courses at Chichester College, click here.