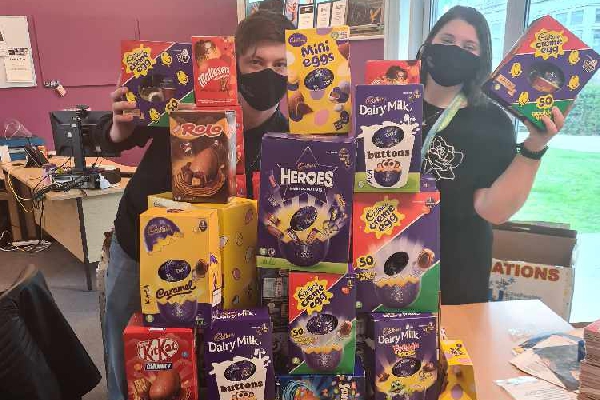 Students at Chichester College collect Easter eggs for Stonepillow
The chocolate eggs were delivered to Stonepillow over the Easter weekend.
Lisa Humphries, Director of Student Services and Pastoral Support at the Chichester College Group, said: "Our student executive team were determined to do something special this Easter – and they have been collecting eggs for local organisations.

"Our colleges, including Chichester College, are a key part of our local communities and it's important to us that we give something back to them.

"It has been a difficult year, so it is great to be able to spread a little bit of happiness where we can."

Stonepillow provide food parcels for many homeless people across Chichester and Arun districts, and while many of us are able to enjoy treats at Easter this is not the case for the clients they support.

Sarah Dakin, Fundraising and Communications manager for Stonepillow, added: "We would like to say a huge thank you the students of Chichester College for their uplifting kindness and generosity.

"For our clients, wherever they are within our many services, treats are not a priority. The chocolate egg donation made such a difference and meant that each and every one of them had something extra to look forward to over the Easter weekend.

"Thanks to Chichester College we all had a very Hoppy Easter!"