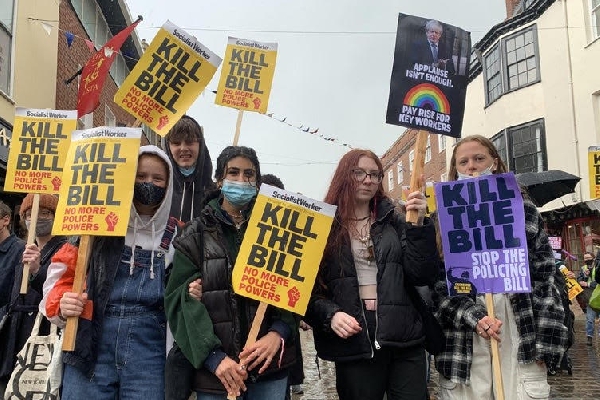 Photo from Kill the Bill protest in Chichester
The organisers of the Kill the Bill protests said: "The spirit of peaceful protest was alive and well in Chichester on Saturday 1 May 2021 as trade unions, Black Lives Matter, Extinction Rebellion, Chichester Pride, local campaign groups and members of the public took to the streets to demonstrate their opposition to the proposed Police, Crime, Sentencing and Courts Bill."
The controversial Bill which due to be reviewed in September, will introduce strict new limits on protests, granting police chiefs the power to impose a range of conditions on static protests involving one or more people.
These include setting noise limits, imposing a start and finish time and creating new stop, search and seize powers.
The police will also have the authority to disrupt any protest which is deemed to cause 'serious inconvenience' – powers which will also apply to public events such as Notting Hill Carnival.
One aspect of the bill which has sparked particular controversy is its hardened stance on those who damage memorials.
Under the new legislation, a person convicted of damaging a monument or statue could be met with a prison sentence of up to 10 years, double that of average sentences for perpetrators of sexual assault.
The protestors, who numbered around 150, gathered in Priory Park before making their way along Priory Road and down North Street to the Market Cross.
Phil Wilson, the organiser for the event, led the chant for the procession.
The protesters waved placards, played music and engaged in a show of solidarity, following a strictly controlled route down to the Market Cross so as to not obstruct shoppers and pedestrians.
Stewards were present to encourage social distancing, provide hand sanitiser and direct the protestors.
The police were also present to oversea the event.
At the Cross, impassioned speeches were made by local councillors, campaigners, local musicians and attendees.
XR's Red Rebels also made an appearance, garbed in red robes for one of their trademark performances.
Phil Wilson, chair of Chichester District Trades Council began with a speech citing the fundamental importance of the right to protest, citing the ways in which these new powers are likely to criminalise resistance to fire-and-rehire policies, the ability of Trade Unions to take industrial action and oppose government policies such as expected continued austerity to deal with the post pandemic economic crisis.
Rosanagh Bradfield who attended the event, said: "As vital and sensible as coronavirus restrictions are, we should be wary of the timing of this bill. The government seems to be using a public health crisis to get a mandate for repressive legislation."