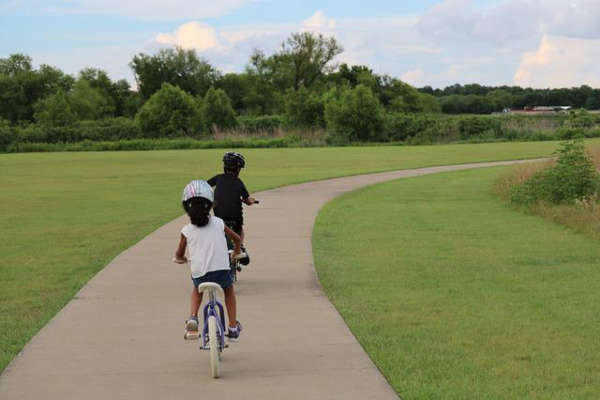 On 22 May 2022, children from across West Sussex are taking on a Duathlon at Weald School in Billingshurst to raise money for young people facing cancer.
The event, organised by KidstriUK events, a branch of Hedgehogtri, will be held in support of Young Lives vs Cancer, UK's leading charity for children and young people with cancer.
Children between the ages of eight to sixteen are invited to take part in a duathlon (run, cycle, run) and raise funds for charity. As well as a great day out for the participants, spectators are encouraged to come along and show their support too. There is a free fun swim after the event, medals for all participants and a Charity raffle for a new road cycle and other goodies.
Paul Hedger founded Hedgehogtri in 1997 and have since organised numerous sporting events all over Sussex from village runs to triathlons, with over 600+ competitors taking part.
Paul was inspired to set up KidstriUK after turning to sport at school and getting involved in cross-country running and swimming at the local swimming club. Triathlon became an interest as he involved himself in the local triathlon club at East Grinstead. He then decided to take up organising events and got into children's triathlon as there were very few events around at the time. Twenty years on he runs a regular children's series and has many families involved working with Triathlon England.
KidstriUK has been supporting good causes for many years and chose to support Young Lives vs Cancer in 2022 after learning about local families affected by cancer.
Entry to the triathlon and duathlon costs between £20-24 and there will be plenty of ways spectators, families and friends can support the day's fundraising.
Paul said: "I'm really proud to be supporting Young Lives vs Cancer this year, it feels great to be doing my bit to help this amazing charity.
"Cancer turns families' lives upside down and Young Lives vs Cancer are there for families holding their hand and helping them face cancer. We want to raise as much as possible for this fantastic charity."
Rose Bailey, Fundraising Engagement Manager for West Sussex at Young Lives vs Cancer, said:
"I'm delighted that Paul and the KidstriUK Team have chosen to support Young Lives vs Cancer this year. KidstriUK events are a fantastic opportunity for young people from across West Sussex to have a go at a triathlon while raising funds for an amazing cause at the same time.
"We know that 12 more children and young people are diagnosed with cancer every day and it is vital that Young Lives vs Cancer can be there for them, individually, locally and nationally. We rely entirely on donations for our work, so support like this is absolutely crucial.
"We'd like to say a huge thank you to Paul and the team for their support and for ensuring that young people with cancer from West Sussex won't have to face cancer alone."