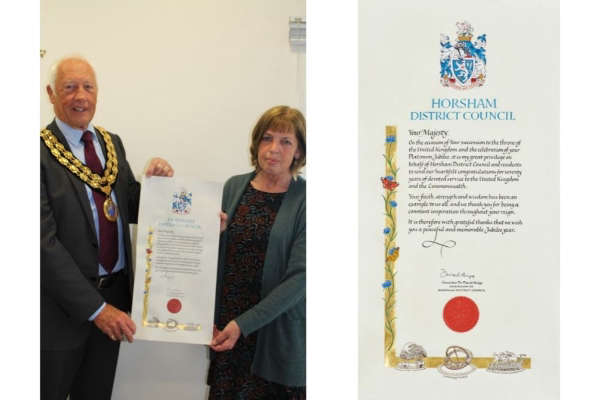 The Chairman of Horsham District Council has commissioned a commemorative scroll to express warm regards and congratulations to HRH Queen Elizabeth II on her Platinum Jubilee.
The scroll was created by a skilled Sussex calligrapher Cathy Stables, and includes images that reflect the District's heritage and natural environment. The text and illustrations have been hand drawn onto high quality vellum, in keeping with the auspicious nature of the occasion.
The Queen and other members of the Royal Family have visited Horsham on a number of occasions during her reign. The scroll will be delivered, in a specially designed presentation box, to Her Royal Highness during May.
Arrangements are in place to reproduce the scroll for local display and archiving as a record of the District's expression of support and gratitude for The Queen's 70 years of dedicated service, care and leadership.