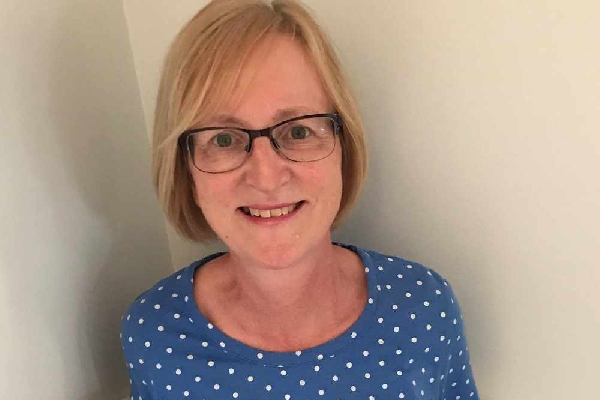 Gillian Weston West Sussex Independent Visitor
West Sussex County Council is currently looking to recruit more Independent Visitors and is hosting two online information events on the 21 and 23 April for people to find out more.
Gillian Weston is an Independent Visitor (IV) for a ten-year-old girl who is fostered. Gillian said: "We have done all sorts together, we've been to many parks, Drusillas Park, Out of Bounds, swimming. It's about giving her some fun and some one-on-one time that she might not always get.
"Lockdown has been quite tricky thinking of new things we can do. I write to her and send her surprise packages because she loves getting post. It's about just listening more than giving advice and building a relationship so she has trust in me. It's very much led by the child."
Gillian describes the child she spends time with as 'full of life' and says she's proud of the difference she's been able to make. "When I first knew her, she moved placements a lot and I could see the impact that had on her. In a way I was the one constant in her life. Now she's with a brilliant foster family she's blossomed as a person, it's lovely to see."
On being an IV, Gillian said: "It's not a huge commitment, you're encouraged to meet up once a month but you can see the difference it makes. They say every child is one important adult from success and it's humbling to make such a difference."
The young person is equally positive about her relationship with Gillian, adding: "Gillian is a kind lovely lady who has been there for me even though I have moved foster placements. Through lockdown Gillian sent me letters and gifts through the post which I loved and we had video calls, I can't wait to see her in person again."
As an Independent Visitor you will be provided with an exciting training and support package so you feel confident about the role and West Sussex County Council always carefully matches each IV with each child.
Gillian added: "The people who work with the IV scheme are first class and when you need advice, there's always someone to speak to, you're never alone. The training is excellent, there's on-going support groups as well so you have contact with other IVs. It doesn't matter how old you are, if you're a younger person or a grandparent, you will be carefully matched with a child and you can make such a difference."
Andrew McAlley is another West Sussex Independent Visitor who has supported a teenage boy for the last four years. He paused when his wife gave birth to twins and is expecting his third child soon. He enjoys it so much he still finds a few hours a month around a busy work and family life.
Andrew said: "We go out for food but he's really active and mountain biking is our big thing, we like to find safe new routes to explore together. We've kept in lots of contact through lockdown but we can't wait to get together again and go for pizza and a bike ride."
To sign up click here.