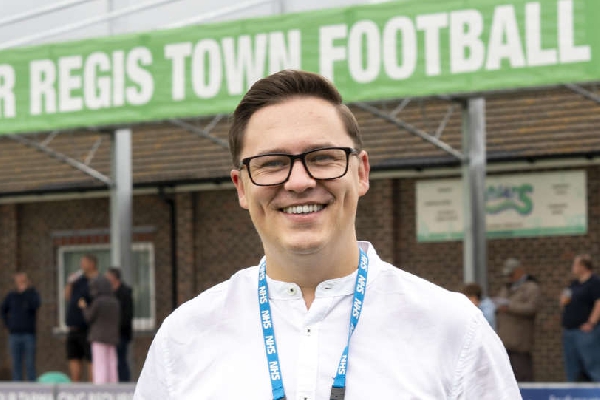 Duane Wadey hopes Bognor Regis Town fans can dig deep to help him raise funds for charity as he heads for a nerve-shredding tandem skydive from 10,000 feet
Duane, Head of Operations at the Westgate Vaccination Centre, Chichester, hopes to boost the coffers of the Western Sussex NHS foundation trust.
And the Rocks were happy to add their support in raising awareness of the effort, having already forged links to Love Your Hospital, the dedicated NHS charity for St Richard's, Worthing and Southlands Hospitals. The Nyewood Lane club's former player John Price is involved with the fund-raising to support NHS staff to provide the very best care to patients and their families.
Brave Duane was on hand to trumpet his impending plummet when the Rocks hosted Burton Albion in a pre-season friendly, and was captured by club photographer Lyn Phillips.
Duane said: "As one of the members of staff within the Western Sussex NHS foundation trust, I want to do something more to support our patients and staff during what has been one of the most challenging times any of us have witnessed.
"During my time working through the pandemic, I have witnessed so many members of Western Sussex staff performing amazing acts of kindness, going above and beyond to ensure the safety of our patients, staff and visitors. All of our staff have really risen to the challenge, regardless of the risks and challenges they have faced on a day to day basis.
"It is a pleasure to work with each and every one of them and the funds I raise will go some way to purchasing vital equipment and resources to make things easier for them to support our patients, those suffering from the dreadful effects of Covid-19 and those who need treatment for other medical issues.
"Please donate what you can, any amount of funds, small or large, will support our hospital and enable us to continue delivering outstanding care."