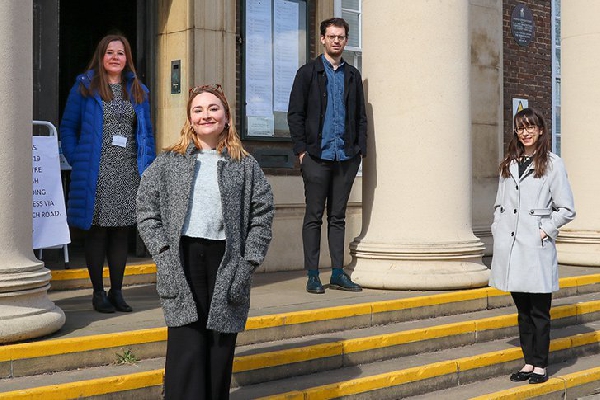 Photo: Left to right - Michelle Tomlin-Flack with three of the Councils' Kickstart placements, Tabitha Heley (HR Assistant), Jamie Weston (Social Media Assistant) and Alice Wheatley (Engagement Assistant)
More than 50 high-quality work placements have been created for 16 to 24-year olds across Adur and Worthing as part of the Kickstart scheme.
The government project is aimed at providing young people who are on Universal Credit or deemed to be at risk of long-term unemployment with six month placements in employment.
Adur & Worthing Councils moved quickly to become a local gateway employer for the scheme and has created about 50 placements across the organisation.
It is also working with a range of local partners including West Sussex Mind, Worthing Homes and ESTEEM to offer a handful of further opportunities.
Michelle Tomlin-Flack, Kickstart Manager for the Councils, said:
"We are excited to be part of the Kickstart Scheme and the recruitment is going well, with seven young people having already started in various roles across the Councils.
"A Kickstart placement with us, and the organisations we are supporting as a Gateway organisation, will provide young people across the area with the opportunity to gain some experience and develop new skills.
"This will make a real difference to their future employability prospects, as each new starter will have access to a range of training and employment support, to ensure that they have the best chance of gaining employment after their placements."
The Councils are supporting young people across the area by helping them to secure these placements, many of which are internal.
The funding available is provided directly to employers, and for each job covers 100 per cent of the National Minimum Wage for 25 hours of work per week, plus the employer National Insurance contributions and employer minimum automatic enrolment contributions.
Sol Chocieszynska has taken up a full-time Creative Content Support Officer role within the Councils' Communications Team, as part of the scheme. She said:
"This opportunity is good for me because it will give me experience with graphics and communications. Getting started has been a big but exciting change.
"My role is varied, so I will get to deal with illustration, design, creative thinking, photo editing and many other things. I'm still figuring out what I would like to do in the future, but this work placement gives me the chance to make connections and help communities."
Employers can spread the start date of the job placements up until the end of December this year. Further funding is available for training and support so people on the scheme can get a job in the future.
The Councils' Housing and Wellbeing Team has welcomed a new young staff member. Tammy Waine, Families and Wellbeing Officer, said:
"The kickstart scheme is a great way to get young people the work experience that some employers insist on having when applying for roles.
"Our engagement Kickstart apprentice Alice has dived right in and has brought a different perspective to certain areas of our work. With her background, she is going to be extremely valuable."
Anyone interested in gaining a placement can apply themselves, or work with a gateway employer such as Chichester College and the West Sussex Chamber of Commerce.