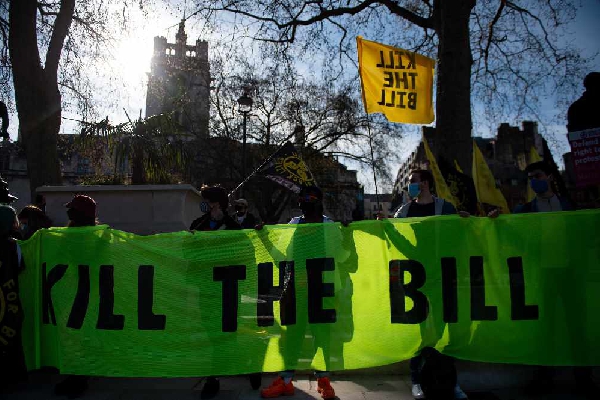 Photo of "Kill the Bill" protest in Parliament Square, London on Saturday April 17, 2021.
Kill the Bill' protesters are set to take to the streets of Chichester today (Saturday 1 May).
A demonstration has been organised in opposition to the proposed Police, Crime, Sentencing and Courts Bill.
Tomorrow's peaceful protest is set to highlight the strength of feeling in opposition to the bill, which critics say will restrict people's right to protest.
Those attending are set to assemble in Priory Park from midday, then march through the city centre via North Street and on to the Market Cross where speeches expected to take place.
It's anticipated that as many as 250 Chichester residents will attend the event.
A spokesperson for Chichester District Trades Council, which jointly organising the event, said: "This new Policing Bill will seriously infringe on our right to protest and is a direct attack on any dissenting voices.
"This will seriously impact the trade union movement, our right to take strike action or the right to picket."
They added: "UK trade union laws are already some of the most repressive in the western free world and as a result, income inequality and job insecurity has risen sharply as employers are given a free hand to exploit workers."