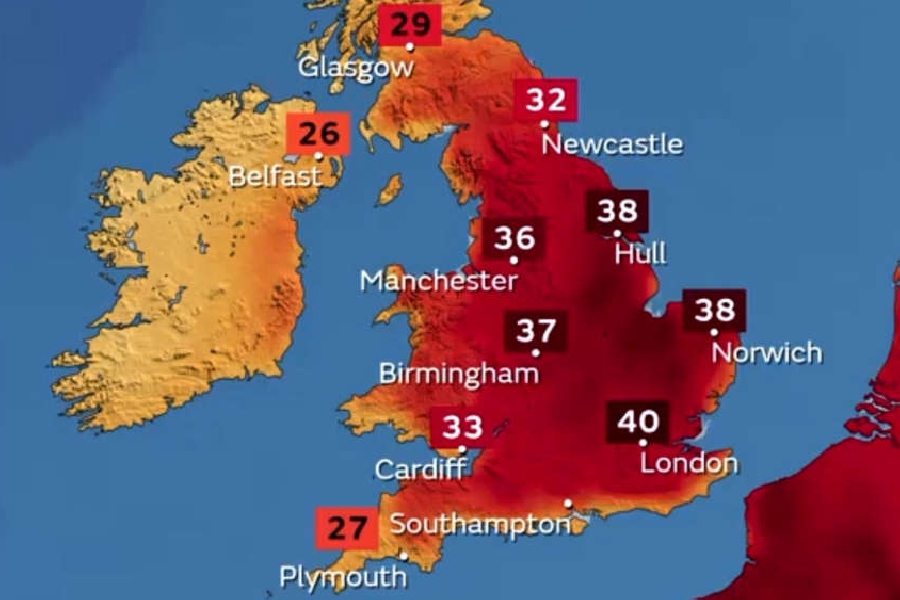 Several West Sussex schools have announced changes to the upcoming school days in response to the red extreme heat warning from the Met Office.
For the first time temperatures of 40°C have been forecast in the UK and the Met Office has issued the first ever Red warning for exceptional heat.
Exceptional heat is expected to affect a large part of England early next week, with temperatures likely in the high 30s C in some places and perhaps even reaching 40°C.
The Red Extreme heat national severe weather warning will cover Monday and Tuesday (18th and 19th July) for parts of central, northern, eastern and South Eastern England.
Met Office Chief Meteorologist Paul Gundersen, said "Exceptional, perhaps record-breaking temperatures are likely early next week, quite widely across the red warning area on Monday, and focussed a little more east and north on Tuesday.
"Currently there is a 50% chance we could see temperatures top 40°C and 80% we will see a new maximum temperature reached.
"Nights are also likely to be exceptionally warm, especially in urban areas.
"This is likely to lead to widespread impacts on people and infrastructure.
"Therefore, it is important people plan for the heat and consider changing their routines as this level of heat can have adverse health effects."
Temperatures in West Sussex are predicted to reach up to 35 degrees on Monday and 34 degrees on Tuesday.
Several schools in West Sussex have announced they will be making amendments to the uniform or the school day to help students deal with the extreme heat.
UNIFORM CHANGES:
Oathall Community College - pupils can wear PE Kit
The Regis School - no blazer or tie
St Robert Woodard Academy - pupils can wear PE Kit
Angmering School - pupils can wear PE Kit
Bourne Community College - pupils can wear PE Kit
Chichester High School - pupils can wear PE Kit
Durrington High School - pupils can wear PE Kit
Felpham Community College - no blazer or tie, pupils can wear PE Shorts
The Littlehampton Academy - pupils can wear PE Kit
St Joseph's Nursery, Infant and CE Junior Schools, Chichester - pupils can wear PE Kit
Barnham Primary School - pupils can wear PE Kit
St Philip Howard Catholic School - pupils can wear PE Kit or Polo Shirt
Arundel Church of England Primary Shool - pupils can wear PE Kit
Edward Bryant School, Bognor Regis - pupils can wear PE Kit
CLOSURES & REDUCED HOURS:
Bohunt School Worthing - closed on Monday and Tuesday
The Academy, Selsey - optional remote learning
*The Weald School, Billingshurst - school is open but ends at 1:30pm on Monday and Tuesday
*Imberhorne School, East Grinsted -school is open but ends at 1:20pm on Monday and Tuesday
Hazelwick School, Three Bridges - closed on Monday, remote working
Thomas Bennett Community College, Crawley - closed on Monday and Tuesday
Steyning Grammar School - closed on Monday and Tuesday
Parklands Primary School, Chichester - closed on Monday and Tuesday for pupils in Years 3, 4 and 5 only