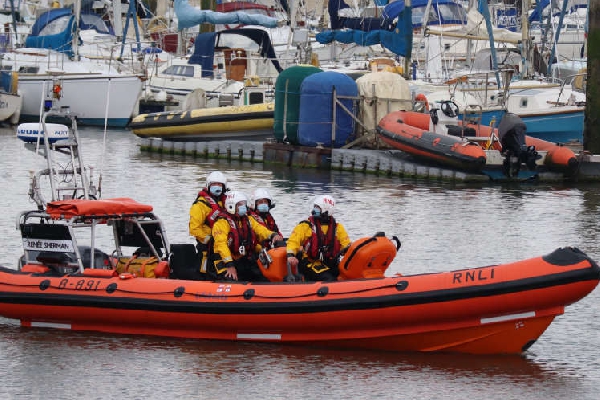 Twenty three volunteers from Littlehampton RNLI Lifeboat Station have been awarded a special commemorative Platinum Jubilee medal in recognition of their service and dedication to saving lives at sea.
The medal, created to mark The Queen's Platinum Jubilee, recognises frontline emergency services personnel who have completed five full calendar years of paid, retained or voluntary service, dealing with emergencies as of 6 February 2022.
The 23 volunteers at Littlehampton RNLI are among 4,500 volunteers and frontline staff from across the Royal National Lifeboat Institution to receive the medal.
Nick White, Littlehampton RNLI's Lifeboat Operations Manager, and one of the medal recipients, said: 'I am delighted to see so many of our hardworking volunteers being recognised by this prestigious award alongside other frontline members of the emergency services, prison services and the Armed Forces. Our volunteers are on call 24 hours a day, seven days a week, and are always ready to help those in trouble at sea. Littlehampton RNLI is run entirely by volunteers, and we could not do what we do without their selfless service.'
Many of the volunteers received their medal at a small ceremony held at the lifeboat station on Friday 3 June, attended by their families. Their medals were presented by Geoff Warminger, Littlehampton RNLI's Lifeboat Boathouse Manager, who is celebrating 50 years' service with Littlehampton RNLI this year.
The volunteers who were awarded the Platinum Jubilee medal are: Adam Grummett, Andy Harris, Andy Hicks, Billy Johnson, David Dawson, David Gates, Geoff Warminger, Hannah Presgrave, Ivan Greer, Jim Cosgrove, Josh Gruber, Lee Cullen, Matt Brewster, Mike McCartain, Nick White, Olly Clarke, Richard Howlett, Richard Winstanley, Ritchie Southerton, Rob Devo, Simon Tann, Steve Howlett, and Warren Meaden.