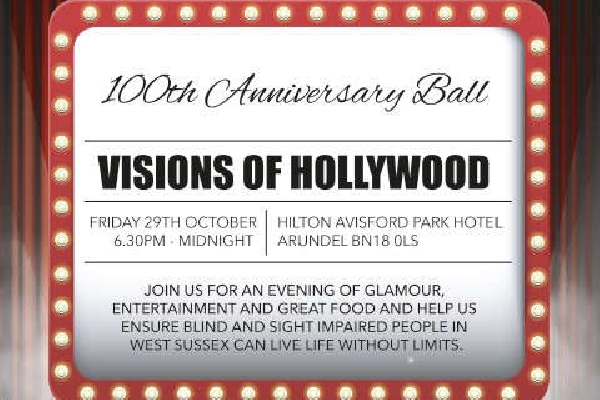 4Sight Vision announces they're hosting a charity ball to celebrate its 100th anniversary.
The 'Visions of Hollywood' Fundraising Ball will be held on Friday 29 October 2021 at the Hilton Avisford Park Hotel, near Arundel.
Tickets are available and will include a three-course meal, drinks, and the very best of Tinsel Town style dancing and entertainment in the price.
4Sight Vision Support provides specialist services to blind and sight impaired adults and children across West Sussex.
The organisers said: "With the uncertainty and disruption caused by the pandemic, it is delighted that the Ball can take place to celebrate not only this milestone anniversary, but the hard work, dedication and support of staff, volunteers and the local community.
"The fundraising Ball promises to be an unforgettable night, with a walk down the red carpet to the drinks reception, a Hollywood Walk of Fame Game and the opportunity to have your photograph taken with the 'stars'.
Kirstie Thomas, CEO, commented, "The Ball will be a wonderful celebration of a century of service to those experiencing sight loss across the county.
"After our fundraising activities were so severely affected last year, we are hoping the Ball will be a real boost for our annual target, helping to
ensure we continue to deliver our vital services to our members in the future. We invite everyone to join us on the evening and have fun movie-style."
Tickets for the Visions of Hollywood Ball cost £80 per person including drinks, food and entertainment, and tables of up to 10 people are available.
4Sight Vision Support is also looking for local businesses and the community to assist the fundraising efforts in other ways, including sponsorship packages, donation of raffle prizes, and other in-kind support. For tickets or further information on how to lend your support, call the Fundraising Team on 01243 838001 or click here.