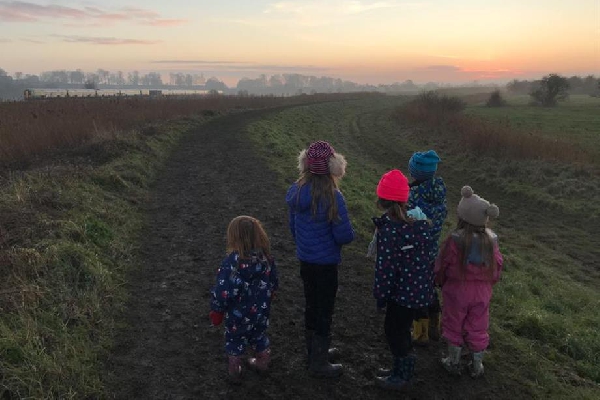 Photo from Catherine Bradley's Just Giving page.
Catherine Bradley, her husband John and their five children, aged between three to 10 are planning to walk 20 miles along the lower Arun Valley from Pullborough to Littlehampton on Monday 3 May.
The family want to raise money for the Disasters Emergency Committee Covid-19 response to India, refugee camps and war zones.
It comes as millions of lives are at stake as Covid-19 hits India, as well as war-torn countries and refugee camps.
India recorded more than 320,000 new cases of coronavirus infection today (Tuesday 27 April) as the country's sinking health system started receiving much-needed support from foreign nations.
Today's 323,144 new infections raised India's total past 17.6 million, behind only the United States.
It ended a five-day streak of recording the largest single-day increases in any country throughout the pandemic, but the decline likely reflects lower weekend testing rather than reduced spread of the virus.
The Bradley family told V2 Radio: "We are fundraising for the DEC to allow them to help families who have lost everything as they face a deadly new threat.
"Your donation of:£10 could provide 20 bars of handwashing soap to help prevent the spread of the virus in a refugee camp.
"£30 could provide six displaced families with enough soap for a month, to keep themselves clean and safe.
"£50 could provide essential hygiene kits to two displaced families.
"£100 could provide full PPE to a healthcare worker for 4 months enabling them to treat those most at need."
The first shipment of medical aid arrived in India this morning. The first of nine plane-loads of life-saving kit, including ventilators and oxygen concentrators, arrived in New Delhi.
The Foreign Office said that the first shipment included 200 ventilators and 95 oxygen concentrators, which will be sent to Indian hospitals.
Catherine Bradley said: "The coronavirus pandemic has been tough for everyone but as the recovery starts here we must think about those who continue to are facing incredibly challenging conditions right now.
"Our family of seven including our children will walk the Arun Way, a 20 mile stretch of the lower River Arun from Pullborough to Littlehampton on the 3 May 2021 to raise money for the DEC response to covid in India and beyond."
Catherine also said: "15 years ago as a medical student I spent several months working with some incredible doctors in a hospital in South India, seeing how the coronavirus pandemic is hitting the country is devastating."
To donate click here.