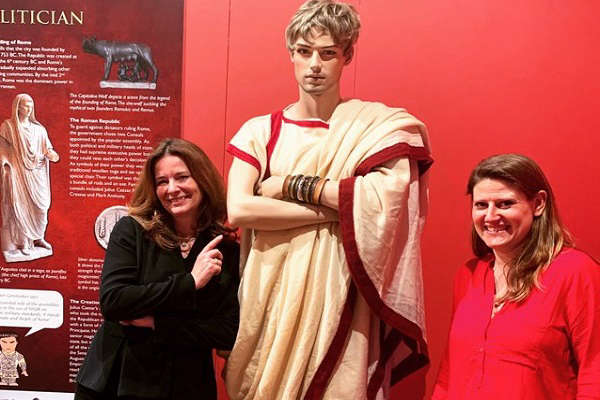 Gillian Keegan MP is calling on local museums, galleries, libraries, and cultural venues across the Chichester Constituency to bid for £16.9 million in new Government funding to help level up access to culture in our communities.
This cash boost will help museums to conduct maintenance work to improve their building infrastructure for the benefit of visitors, staff, and their collections – preserving our shared culture for communities to enjoy across the country.
The Department for Digital, Culture, Media, and Sport is contributing the extra funding for the second round of the Museum Estate and Development Fund. Cultural entities can enter Round 2 from yesterday (9 May 2022) and bid for grants of between £50,000 and £5 million. Museums and galleries benefitting from the Fund's investments have improved access for communities to their local history. Funding awarded has helped to complete structural work, prevent flooding, and increase public access, so that more people can visit their collections and enjoy our national heritage.
The news comes as Chichester celebrates a season of Culture that is celebrating the rich and diverse cultural offering of the entire district. The season is bringing together an eclectic mix of events, performances, and exhibitions that will run right through the summer months. If you'd like to find out more and see what's on near you visit The Great Sussex Way at: www.thegreatsussexway.org.
Commenting. Gillian Keegan, Member of Parliament for Chichester said:
"We have a rich heritage and culture in every part of the constituency; our museums, galleries, and cultural venues help keep it alive. As a Government, we recognise the huge contribution heritage and culture make to an area's identity and economy, as well as, what a challenge Covid-19 has been for many of our incredible institutions. I fully encourage every eligible business locally to put in a bid so they can continue safeguarding our local history, art, and culture."
Commenting. Danielle Dunfield, CEO of The Great Sussex Way said:
"This funding is could be transformational to our cultural institutions, I echo Gillian's call for our museums and galleries to come forward and take advantage of this fund. Chichester District's economy is hugely dependent on tourism; our heritage, art, and culture are a significant driver of that - and therefore a key part of our post-covid-19 economic recovery."