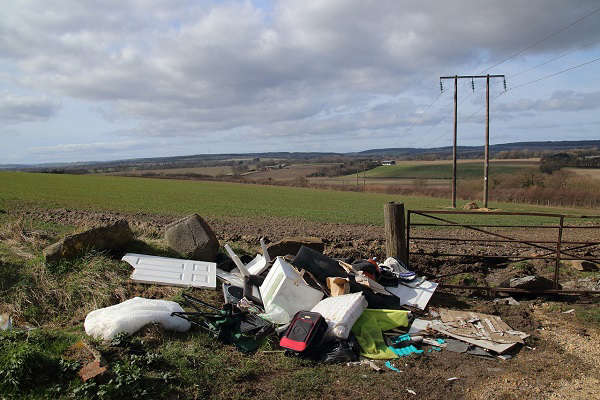 Photo Credit: Emphyrio-PIXABAY
Arundel & South Downs MP, Andrew Griffith, has written to the Government to urge a collaborative approach to prevent victims of fly-tipping from being burdened with the cost of the crime.
In a letter to the Minister for Rural Affairs and Biosecurity, Rt Hon The Lord Benyon, Mr Griffith said that many victims feel that it is unfair that they are responsible for clearing the material that was illegally discarded on their land.
In 2020, the number of fly-tipping incidents that took place rose to over a million in a year. In early 2021, 50,000 people signed an open letter to the newly elected Police and Crime Commissioners calling for better collaboration to tackle prevention, clean-up and prosecution of those who commit the crime of fly-tipping*.
Illegal dumping, also called fly dumping or fly tipping, is the dumping of waste illegally instead of using an authorised method such as curbside collection or using an authorised recycling centre.
Currently there is no minimum fine set out in law for unlawfully depositing waste and sentencing in individual cases is a matter for the independent courts. There are provisions in the Environment Bill to enable the electronic tracking of illegal waste dumping.
Andrew Griffith MP said:
"For many landowners and farmers who are victims of fly-tipping, there is often a considerable expense and disruption in clearing the tipped materials. The Government has done good work in the Environment Bill to make the most of the technology available to tackle fly-tipping.
Our response to fly-tipping can be improved for the benefit of victims by a collaborative approach between landowners and farmers, local authorities, the police and the Department for Environment, Food and Rural Affairs."
Romy Jackson, NFU County Adviser for Sussex & Surrey, said:
"The NFU has repeatedly called for better collaboration and would like to see the Environment Agency, police, local authorities, and farmers working together to tackle the problems. In some areas these relationships work well but we want a more consistent approach.
"More also needs to be done to educate householders on their legal obligations of disposing rubbish and how they can better reduce, re-use and recycle waste. It's important government and local authorities take the lead in making people aware of their duty of care. Offenders caught dumping waste illegally must also see proportionate fines as a proper punishment and these must act as a deterrent."