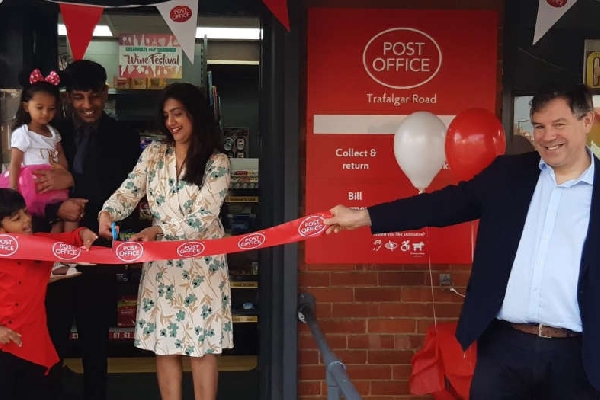 Horsham MP Jeremy Quin with new Postmasters Shraddha and Chirag Thakkar with son Rishan and daughter Risha
Jeremy Quin visited the brand-new branch at Corner Newsagents
Horsham MP Jeremy Quin has officially visited the brand-new Post Office at Corner Newsagents on Trafalgar Road in Horsham.
He attended a ribbon cutting alongside the new Postmasters Shraddha and Chirag Thakkar, who have run Corner Newsagents for the past five years.
This new branch offers customers a wide range of Post Office services, from posting letters and parcels to collecting and returning online shopping items. Customers can also take advantage of a wide range of banking services including cash withdrawals and balance enquiries for customers of all the main UK banks.
The new Post Office services are available Monday – Saturday: 9am – 6pm. This offers customers 54 hours of Post Office service a week, making it convenient for customers to visit and to access a wide range of Post Office services including cash.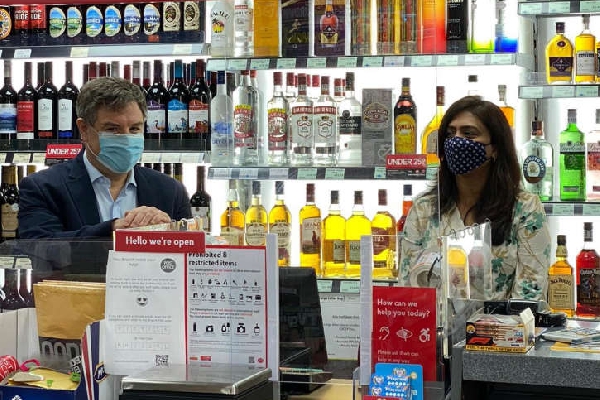 MP Jeremy Quin says "Trafalgar Road Post Office is in a residential area, so these residents now have easy access to Post Office services including posting, bill payments, banking and the withdrawal of cash."
Mr Thakkar says "we have 350 newspaper delivery customers and many of our customers are elderly. They kept asking if there could be a Post Office at the shop. When the opportunity for a brand-new branch came up, I took it. Customers are delighted that the don't have to travel into town and there is free parking outside. They are coming in to withdraw cash, pay bills, send parcels and letter and do home shopping returns. People did not realise that you can also do banking on behalf of all the major banks, but word is starting to spread now."
Trafalgar Road Post Office aims to offer even more convenience to Post Office customers by extending the availability of Post Offices services in the area. The new branch joins branches Caterways, Coltsfoot Drive, Horsham and Roffey bringing vital services to the area.