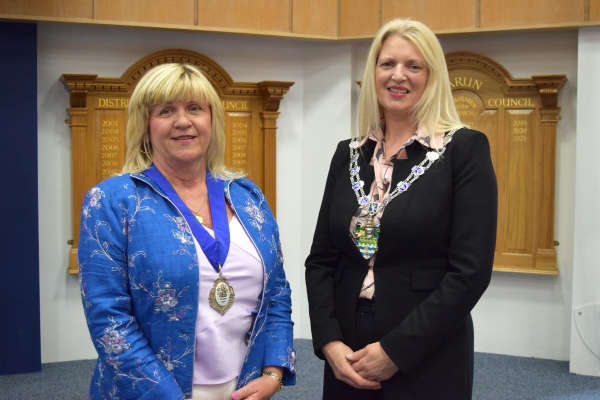 Councillors have voted and appointed a new Chair and Vice Chair of Arun District Council.
The vote was taken to appoint Cllr Samantha-Jayne Staniforth as Chair for the council for the forthcoming year, and the ceremonial presentation of the chains of office took place, with two of Cllr Staniforth's sons present.
Cllr Staniforth said: "I am delighted and honoured to have been voted as Chair of Arun District Council. As an ambassador of the council, I am looking forward to the year ahead and the opportunities that it will bring to highlight our wonderful district and the people in it. I am also looking forward to leading council meetings in a fair and ordered manner and working with all parties to ensure that we do the best for the residents of the district."
Following this appointment, Cllr Alison Cooper was then voted as Vice Chair of the council and received her badge of office and took her seat next to the new Chair.
Cllr Cooper said: "Being elected as Vice Chair of the council is a great privilege and I look forward to working alongside Cllr Staniforth support her in fulfilling her duties in this special Jubilee year. As a West Sussex County Councillor and Rustington Parish Councillor I believe my knowledge and experience will assist us to form a great team for the benefit of the district."
At the same meeting it was confirmed that Cllr Shaun Gunner will continue as Leader of the Council and Cllr Dr James Walsh, as Leader of the Opposition.
Cllr Gunner said: "I am proud to have been re-elected as Leader of Council to serve the residents of Arun. We are going to continue with the priorities of this district such as delivering projects as part of the Levelling Up programme, supporting high streets, public realm work, country parks, leisure facilities and providing more council houses. This council is focused on delivering for the people of Arun, making it a better place to live, work and visit."
(Photo Courtesy of www.arun.gov.uk)