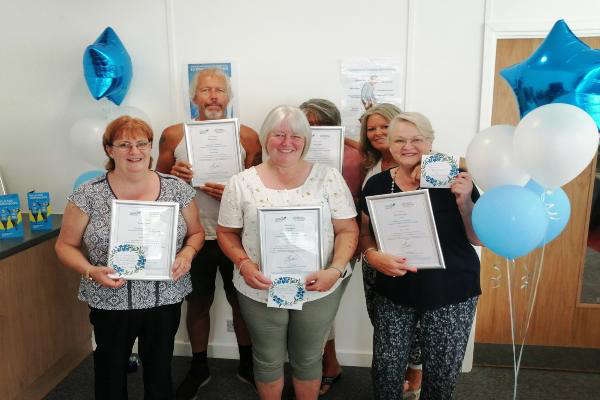 Class of 22 with their awards. Photo Credit: Home Instead.
Parkinson's Explained training has been launched this week with Home Instead, making them the first Care Professionals in West Sussex to undertake the training.
Home Instead, rated Outstanding by the Care Quality Commission, in Chichester are empowering their Care Professionals to ensure that they have the right support for their clients in their own home.
You never stop learning at Home Instead and they're rolling out Parkinson's training to their amazing Care Professionals.
Parkinson's Explained will give Care Professionals even more knowledge and understanding and equip them with the very best skills to deliver exceptional personal centred care to West Sussex clients living with Parkinson's Disease.
Home Instead provide outstanding care services across Chichester, Bognor Regis and Wittering. Services can include anything from companionship, home-help, personal care and specialist care like Parkinson's.
The Parkinson's Explained workshop aims:
• To gain knowledge and understanding of Parkinson's
• To help care staff to understand the needs of people living with Parkinson's
• To improve the quality of life for people with Parkinson's and their carers
"The course has been interactive, fun and very informative.
The style of teaching has been great. We've learnt lots."
Tina Martin, Home Instead employee
Parkinson's is a progressive neurological condition. This means that it causes problems in the brain and gets worse over time.
Around 145,000 people live with Parkinson's in the UK. And it's the fastest growing neurological condition in the world. There are over 40 symptoms of Parkinson's.
From a tremor or stiffness, to problems with sleep and mental health. Everyone's experience is different.
For further information please contact Dean Chant on dean.chant@homeinsteadchichester.co.uk