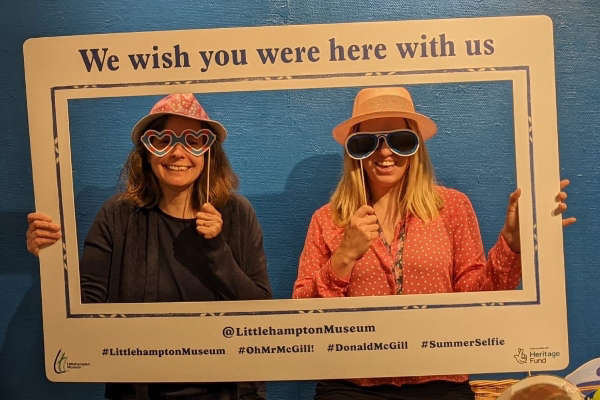 Littlehampton Museum's summer exhibition "Oh Mr McGill!" allows a peep at the comic world of seaside postcards and the town's connections with their most famous creator.
Celebrating Donald McGill, the illustrator whose comic postcards are forever linked with the Great British Seaside Holiday, this family- friendly exhibition features cards from the Museum's collection, alongside original McGill artwork donated by former local resident and national comic treasure Ronnie Barker.
Visitors can explore how the drawings were turned locally into postcards using printing plates, and discover which card holds the world record for selling the most copies - all six million of them. They can find out, too, what happened when the censors came snooping in the 1950s.
Visitors will also have a chance to try their hand at some themed crafts, and postcard puzzles and they can use the selfie frame to create your very own digital card from your visit to the Museum and share it on your socials.
This exhibition has been created by The Fedora Group with support from Heritage Lottery Fund.
Associated with the exhibition are free workshops taking place over the summer including postcard printing and Punch and Judy shows.
"This is a wonderful opportunity for the Museum to showcase its unique McGill postcard collections and to explore McGill's connections to the Town." said Councillor Billy Blanchard-Cooper, Chair of Littlehampton Town Council's Community Resources Committee.
"This informative exhibition also captures a feeling of seaside fun with its interactive family-friendly activities"