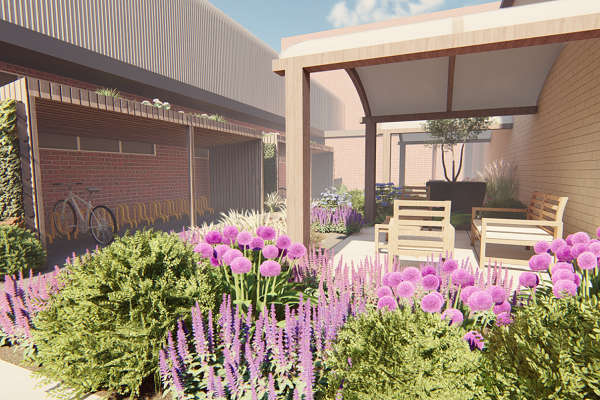 Image: UHS - NHS
A therapeutic and relaxing 'Wellbeing Garden' for staff at St Richard's hospital was officially opened on 5 November by Dame Marianne Griffiths, Chief Executive.
The garden, worth over £200,000, was gifted to staff as a thank you for their hard work during the pandemic by Chichester-based award-winning landscape and garden design studio, Andy Stedman Design.
Guests at the event included the team at Andy Stedman Design, local contractors and suppliers, and actor and writer Imogen Stubbs, a local advocate for the beauty and conservation of the Sussex area and the effects of overdevelopment and pollution.
"This is a project very close to my heart," explains Andy Stedman. "I was born at St Richard's Hospital and visited A&E many times throughout my childhood following various rugby and skateboarding injuries. However, it wasn't until 2019, when my wife and I found ourselves in the neonatal unit here with our daughter who was born eight weeks early, when we saw first-hand how hard all the staff worked and how caring they were," he added.
"When we heard the garden needed transforming my staff took it on and within 48 hours had reached out to our network of suppliers, contractors and partners in our showroom to get involved for free. We all know the hospital does so much for thousands of local people and we had costed this project up very early on, which came to more than £200,000. We then managed the concept design all the way through to how it has developed today."
Dame Marianne Griffiths marked the opening by commending colleagues at the Trust for their hard work and Andy Stedman and his team for their kindness and generosity. "The pandemic has been really tough for our communities and the patients we serve, but also for our staff, who have continued to go above and beyond throughout these extraordinary times to make sure patients receive the best care possible. Giving this wonderful wellbeing garden to them feels all the more poignant as we stand here today," she said.
Steve Crump, Director of Charites for Love Your Hospital said: "During the pandemic, the Charity surveyed staff to understand how best we could support them through such a challenging time, and one consistent request was dedicated outside spaces. To see this garden project realised to such a high standard is truly fantastic and invaluable as a place for staff to recharge and relax in.
"Being able to utilise funds kindly donated to our Hospital Heroes Covid-19 Appeal to provide canopies to ensure the garden can be enjoyed all-year-round, really is the icing on the cake. A huge thank you to Andy Stedman Design and all the contractors and suppliers involved who came to make this wonderful green space a reality.