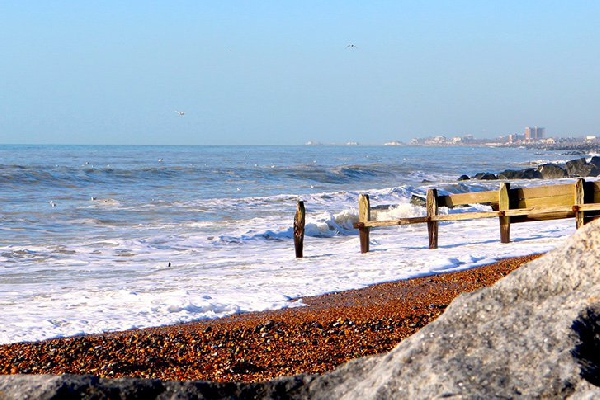 Plans to restore a historic kelp forest off the coast of Sussex are continuing, with two local councils receiving a £79,000 boost from the Government.
It is hoped that much of the carbon-guzzling kelp forest can be returned to its former glory to help fight climate change and boost the local economy.
The leaders of Adur and Worthing councils hailed the contribution, which comes as they seek to lease seabed off their coastline from the Queen, who owns the seabed to a distance of 12 nautical miles off the coast.
The sea off Sussex was once home to a vast historic kelp forest, a haven for marine life stretching across 172 square kilometres, but 90% of it has been lost in recent decades.
The two West Sussex councils hope to link up with counterparts to create a huge Sussex Bay marine park stretching along the entire coastline of East Sussex and West Sussex.
If fully restored, a kelp forest off the Sussex coast could capture the carbon emissions equivalent to 66 million miles driven in a family diesel or the carbon emissions of 7,235 homes, it is thought.
Environment Minister Rebecca Pow said: "Given the scale of the environmental challenges we face, including climate change and biodiversity loss, it is crucial that domestic natural environment projects are able to attract private investment alongside support from the public sector.
"Unleashing innovation and developing new sources of finance, such as through the Natural Environment Investment Readiness Fund, are fundamental for delivering nature recovery and developing nature-based solutions to achieve net-zero carbon emissions by 2050."
The £79,000 award comes from Government department Defra and the Environment Agency.
Leader of Adur District Council Neil Parkin said: "There has been a tremendous response to the kelp forest project and indeed the idea of Sussex Bay.
"This Government grant is another endorsement of this vital and innovative scheme."
Leader of Worthing Borough Council Daniel Humphreys said: "This is great news. This partnership work on Sussex Bay has the potential to help us cut carbon emissions, restore our marine ecology and attract investment to support the creation of a marine park."
Sussex was once home to a massive kelp forest, but the majority was destroyed during a storm in 1987.
This combined with a change in fishing methods meant that the kelp was not able to regenerate, the councils say.