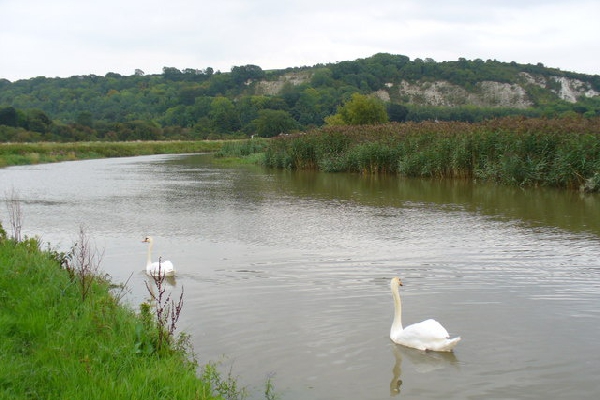 Photo credit: Colin Smith
As the weather turns warmer the public are being warned against tombstoning or swimming in the River Arun at Littlehampton.
Arun District Council has teamed up with Littlehampton Town Council, Littlehampton Harbour Board, Littlehampton Coastguard Rescue Team and the RNLI to again share the safety message.

Many risks exist that could cause life-threatening or life-changing injuries - or even death - to anyone participating in these dangerous activities.

The depth of water can be deceiving due to the varying tides and the shallower areas at the river's edge.
Hidden dangers lurk beneath the water line such as rocks, debris or abandoned equipment which could cause injury, paralysis or loss of life if landed on.

The effect of cold-water shock, even on warmer days, can make it difficult to breathe and swim, and the notoriously strong tidal current of the river Arun can quickly sweep people away from a safe and accessible way of exiting the water.

Boats using the river find it near impossible to see the heads of swimmers so there is a very real risk of being struck by a boat.
Swimming in the river without permission is prohibited.

Last year, that national media featured the story of a man from Hampshire who was pleading for people to stop tombstoning after he was left paralysed from the chest down after a tombstoning accident 20 years ago.

Philippa Dart, Director of Services at Arun District Council, said: "We have joined forces with other agencies to really push home the importance of this safety message. Tombstoning is an extremely dangerous activity that could ruin your life so it's worth thinking twice before taking such a risk.
Swimming in the River Arun at Littlehampton is highly dangerous too and is also against the rules. If you are a parent or guardian of somebody who engages in these activities, please speak with them and emphasise the dangers before it's too late."

Littlehampton Harbour Master, Harry Gregory, said: "Whilst leaping into our beautiful river may initially seem appealing in warm weather or an exciting way to blow off some steam, there are many serious hazards that are not always immediately obvious.
"Those tempted should also be aware that the harbour's safety regulations (which are enforceable in court if necessary) prohibit jumping or diving from the river wall as well as any jetty, pier, pontoon, bridge or boat without permission.

"The same applies to swimming in the 'fairway' (the main river channel where water remains at low tide) because boats navigating the swift river flow can find it very difficult to see and avoid swimmers. Unauthorised access to the river via pontoons and slipways is both trespass and unsafe due to the frequent and unpredictable use of these areas by boats.
"Swimmers are encouraged to stick to the designated bathing areas on the local beaches where buoyed areas protect them from boats, and they also remain under the watchful eye of RNLI beach lifeguards when they are present during the peak summer season."
In the event of a coastal emergency, call 999 and ask for the Coastguard.