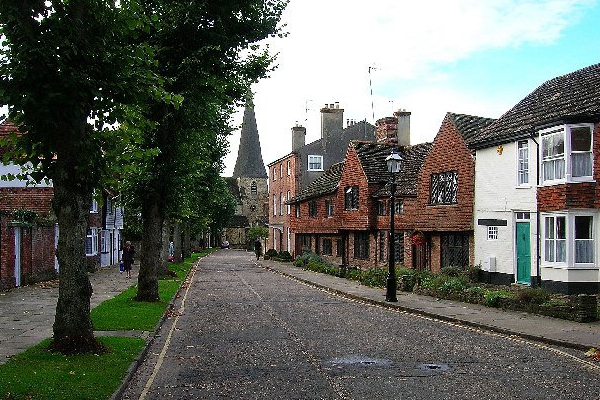 House prices in West Sussex average £390,000, but over 3,000 properties have sold for more than a million pounds since 1995.
On the wealthiest street, an average property is estimated to be worth £3,331,000, over 11 times the £281,000 national average house price.
The street with the largest properties has an average house size of 4,467 square feet, over 4 times the 950 square feet average home.
Top 10 streets in West Sussex according to Varbes
Top 5 streets for towns in West Sussex
Arundel
Madehurst Road, Madehurst, BN18 Average value: £1,381,000, Average size: 2,278 sq ft
Church Hill, Slindon, BN18 Average value: £1,341,000, Average size: 1,243 sq ft
Little Heath Road, Fontwell, BN18 Average value: £1,327,000, Average size: 2,943 sq ft
The Alley, Amberley, BN18 Average value: £1,197,000, Average size: 2,037 sq ft
School Hill, Slindon, BN18 Average value: £1,123,000, Average size: 1,547 sq ft
Average cost per square foot: £634
Billingshurst
Skiff Lane, Wisborough Green, RH14 Average value: £2,023,000, Average size: 2,211 sq ft
Drungewick Lane, Loxwood, RH14 Average value: £1,572,000, Average size: 2,382 sq ft
Brick Kiln Common, Wisborough Green, RH14 Average value: £1,531,000, Average size: 2,534 sq ft
Strood Green, Kirdford, RH14 Average value: £1,441,000, Average size: 1,663 sq ft
Fittleworth Road, Wisborough Green, RH14 Average value: £1,428,000, Average size: 1,839 sq ft
Average cost per square foot: £752
Bognor Regis
The Byeway, Aldwick, PO21 Average value: £1,708,000, Average size: 2,483 sq ft
Arun Way, PO21 Average value: £1,464,000, Average size: 3,135 sq ft
Old Point, PO22 Average value: £1,190,000, Average size: 2,071 sq ft
The Dunes, PO21 Average value: £1,170,000, Average size: 2,268 sq ft
Third Avenue, PO22 Average value: £1,157,000, Average size: 2,123 sq ft
Average cost per square foot: £554
Burgess Hill
Wellhouse Lane, RH15 Average value: £1,467,000, Average size: 2,589 sq ft
Woodwards Close, RH15 Average value: £1,297,000, Average size: 2,014 sq ft
Cuckfield Road, RH15 Average value: £1,141,000, Average size: 1,734 sq ft
Theobalds Road, RH15 Average value: £1,130,000, Average size: 2,135 sq ft
Hammonds Gardens, RH15 Average value: £1,104,000, Average size: 1,927 sq ft
Average cost per square foot: £590
Chichester
Spinney Lane, Itchenor, PO20 Average value: £3,331,000, Average size: 3,677 sq ft
East Strand, West Wittering, PO20 Average value: £3,029,000, Average size: 3,692 sq ft
West Strand, West Wittering, PO20 Average value: £2,592,000, Average size: 3,667 sq ft
Bosham Hoe, Bosham, PO18 Average value: £2,515,000, Average size: 3,310 sq ft
Rookwood Lane, West Wittering, PO20 Average value: £2,083,000, Average size: 3,048 sq ft
Average cost per square foot: £779
Crawley
Cuttinglye Road, Crawley Down, RH10 Average value: £1,610,000, Average size: 4,290 sq ft
Old Hollow, Worth, RH10 Average value: £1,425,000, Average size: 2,059 sq ft
Wallage Lane, Rowfant, RH10 Average value: £1,403,000, Average size: 1,987 sq ft
Parish Lane, Pease Pottage, RH10 Average value: £1,387,000, Average size: 2,308 sq ft
Maynard Close, Copthorne, RH10 Average value: £1,293,000, Average size: 1,921 sq ft
Average cost per square foot: £566
East Grinstead
Vowels Lane, RH19 Average value: £2,332,000, Average size: 2,441 sq ft
Coppice Vale, Felbridge, RH19 Average value: £1,903,000, Average size: 3,444 sq ft
Thicket Rise, Felbridge, RH19 Average value: £1,804,000, Average size: 3,410 sq ft
Hook Lane, West Hoathly, RH19 Average value: £1,749,000, Average size: 1,761 sq ft
Vowels Lane, Kingscote, RH19 Average value: £1,680,000, Average size: 1,863 sq ft
Average cost per square foot: £733
Emsworth
Salterns Reach, Prinsted, PO10 Average value: £1,544,000, Average size: 2,006 sq ft
Ham Lane, Prinsted, PO10 Average value: £1,032,000, Average size: 2,073 sq ft
Prinsted Lane, Prinsted, PO10 Average value: £989,000, Average size: 1,822 sq ft
Old Farm Lane, PO10 Average value: £939,000, Average size: 2,699 sq ft
Roundhouse Meadow, PO10 Average value: £931,000, Average size: 1,947 sq ft
Average cost per square foot: £515
Haslemere
Blackdown, GU27 Average value: £2,366,000, Average size: 3,736 sq ft
Marley Heights, GU27 Average value: £2,352,000, Average size: 3,087 sq ft
Fernden Lane, GU27 Average value: £2,274,000, Average size: 2,948 sq ft
Gillhams Lane, GU27 Average value: £2,258,000, Average size: 3,721 sq ft
Lickfold Road, Fernhurst, GU27 Average value: £2,217,000, Average size: 2,383 sq ft
Average cost per square foot: £722
Hassocks
Albert Silsby Place, Hurstpierpoint, BN6 Average value: £2,169,000, Average size: 3,679 sq ft
Belmont Lane, BN6 Average value: £1,389,000, Average size: 2,228 sq ft
Underhill Lane, Clayton, BN6 Average value: £1,350,000, Average size: 2,234 sq ft
New Way Lane, Hurstpierpoint, BN6 Average value: £1,272,000, Average size: 2,152 sq ft
Mill Lane, Sayers Common, BN6 Average value: £1,228,000, Average size: 1,948 sq ft
Average cost per square foot: £605
Haywards Heath
Private Road, Balcombe, RH17 Average value: £2,339,000, Average size: 4,467 sq ft
Sloop Lane, Scaynes Hill, RH17 Average value: £2,225,000, Average size: 3,286 sq ft
Copyhold Lane, Cuckfield, RH17 Average value: £1,844,000, Average size: 2,688 sq ft
Cross Colwood Lane, Bolney, RH17 Average value: £1,814,000, Average size: 2,754 sq ft
Staplefield Lane, Staplefield, RH17 Average value: £1,695,000, Average size: 3,687 sq ft
Average cost per square foot: £587
Henfield
Edburton Road, Fulking, BN5 Average value: £1,857,000, Average size: 3,108 sq ft
Brighton Road, BN5 Average value: £1,683,000, Average size: 2,144 sq ft
Lawyers Lane, BN5 Average value: £1,351,000, Average size: 2,605 sq ft
Sandy Lane, BN5 Average value: £1,281,000, Average size: 2,427 sq ft
Brighton Road, Woodmancote, BN5 Average value: £1,275,000, Average size: 2,513 sq ft
Average cost per square foot: £582
Horsham
Naldretts Lane, Rudgwick, RH12 Average value: £1,888,000, Average size: 2,036 sq ft
Oakland Close, RH13 Average value: £1,831,000, Average size: 3,100 sq ft
Clapgate Lane, Slinfold, RH13 Average value: £1,787,000, Average size: 2,327 sq ft
Copperfields, RH13 Average value: £1,732,000, Average size: 2,356 sq ft
Springfield Lane, Colgate, RH12 Average value: £1,715,000, Average size: 3,564 sq ft
Average cost per square foot: £669
Lancing
Church Lane, Sompting, BN15 Average value: £1,187,000, Average size: 1,955 sq ft
Mount Way, BN15 Average value: £908,000, Average size: 2,321 sq ft
Ring Road, BN15 Average value: £698,000, Average size: 1,555 sq ft
St Marys Close, Sompting, BN15 Average value: £664,000, Average size: 1,245 sq ft
Fairview Road, BN15 Average value: £632,000, Average size: 1,416 sq ft
Average cost per square foot: £482
Littlehampton
Gorse Avenue, Kingston Gorse, BN16 Average value: £2,022,000, Average size: 3,366 sq ft
Tamarisk Way, East Preston, BN16 Average value: £1,854,000, Average size: 3,645 sq ft
Coastal Road, East Preston, BN16 Average value: £1,659,000, Average size: 3,077 sq ft
Seafield Road, East Preston, BN16 Average value: £1,648,000, Average size: 3,183 sq ft
Brookside Road, Kingston Gorse, BN16 Average value: £1,427,000, Average size: 2,464 sq ft
Average cost per square foot: £547
Midhurst
Pine Walk, GU29 Average value: £2,396,000, Average size: 4,051 sq ft
Closewalks Wood, GU29 Average value: £1,437,000, Average size: 2,402 sq ft
Hurst Park, GU29 Average value: £1,359,000, Average size: 2,086 sq ft
Easebourne Street, Upper Easebourne, GU29 Average value: £1,322,000, Average size: 1,271 sq ft
Hoyle Lane, Heyshott, GU29 Average value: £1,216,000, Average size: 2,266 sq ft
Average cost per square foot: £640
Petworth
Lodge Green, Duncton, GU28 Average value: £1,983,000, Average size: 3,160 sq ft
Nonnington Lane, Graffham, GU28 Average value: £1,748,000, Average size: 2,998 sq ft
Dial Green, Lurgashall, GU28 Average value: £1,635,000, Average size: 2,053 sq ft
Vicarage Lane, Lodsworth, GU28 Average value: £1,544,000, Average size: 1,570 sq ft
Norwood Lane, Graffham, GU28 Average value: £1,528,000, Average size: 1,407 sq ft
Average cost per square foot: £754
Pulborough
Bedham Road, Fittleworth, RH20 Average value: £3,262,000, Average size: 3,113 sq ft
Westburton Lane, Bury, RH20 Average value: £2,014,000, Average size: 2,336 sq ft
Goose Green Lane, Goose Green, RH20 Average value: £1,937,000, Average size: 3,044 sq ft
School Lane, Sutton, RH20 Average value: £1,523,000, Average size: 1,620 sq ft
Heathermead, West Chiltington, RH20 Average value: £1,458,000, Average size: 2,916 sq ft
Average cost per square foot: £782
Shoreham By Sea
South Beach, BN43 Average value: £1,244,000, Average size: 1,844 sq ft
Windlesham Gardens, BN43 Average value: £1,094,000, Average size: 1,976 sq ft
West Beach, BN43 Average value: £1,051,000, Average size: 2,212 sq ft
Mill Hill, BN43 Average value: £1,001,000, Average size: 1,963 sq ft
Kingston Bay Road, BN43 Average value: £935,000, Average size: 2,036 sq ft
Average cost per square foot: £531
Steyning
Annington Road, Bramber, BN44 Average value: £1,859,000, Average size: 3,129 sq ft
The Village, Ashurst, BN44 Average value: £1,502,000, Average size: 2,587 sq ft
Dog Lane, BN44 Average value: £1,107,000, Average size: 1,883 sq ft
Botolphs Road, Bramber, BN44 Average value: £1,101,000, Average size: 1,923 sq ft
Sopers Lane, Bramber, BN44 Average value: £1,083,000, Average size: 2,597 sq ft
Average cost per square foot: £549
Worthing
Links Road, BN14 Average value: £1,360,000, Average size: 3,531 sq ft
Soldiers Field Lane, Findon, BN14 Average value: £1,229,000, Average size: 2,409 sq ft
Myrtle Grove, Patching, BN13 Average value: £1,195,000, Average size: 1,615 sq ft
Convent Gardens, Findon, BN14 Average value: £1,177,000, Average size: 2,590 sq ft
The Street, Patching, BN13 Average value: £1,025,000, Average size: 2,021 sq ft
Average cost per square foot: £492