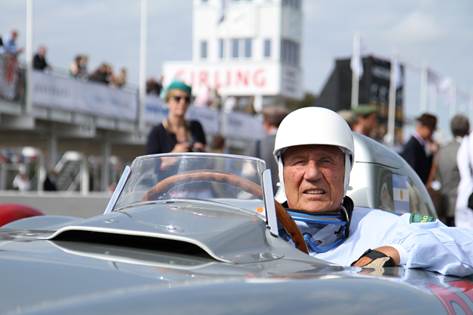 Motorsports legend Sir Stirling Moss, who passed away last Easter, will be commemorated at Goodwood's headline motorsport events this year.
Goodwood Motor Circuit was where Moss took part in - and won - his very first motor race on 18 September 1948, a day after his 19th birthday.
In the years that followed, Moss contested 56 races at Goodwood, winning 21 of them and finishing on the podium a further 13 times.
Goodwood was the scene of four of Moss' seven Tourist Trophy victories; two for Ferrari and two for Aston Martin, including clinching the British marque's world championship title in 1959.
Tragically, it was also the scene of his career-ending accident on 23 April 1962.
One of the founding patrons of the Festival of Speed, and a regular competitor at the Revival, Moss became a favourite of the fans, who christened him 'Mr Goodwood'.
Given his racing record – winning in almost everything he drove – bosses say it is fitting that Moss should be remembered at the 2021 Festival of Speed, the theme for which is 'The Maestros – Motorsport's Great All-Rounders'.
This weekend marks the anniversary of the 1955 Mille Miglia, which Moss won with co-driver Denis 'Jenks' Jenkinson.
The duo completed the epic 1,000-mile race in 10 hours, 7 minutes and 48 seconds at an average speed of 99mph.
Honouring this achievement at the Festival of Speed, Mercedes-Benz will be displaying the 300SLR '722' in which the pair competed, rarely seen outside the Mercedes-Benz Museum in Stuttgart.
Mercedes-Benz will also be bringing a W196 Formula 1 car, the type Moss used to win his first Grand Prix at Aintree in 1955.
The Goodwood Revival in September will also host possibly the largest ever gathering of Moss' competition cars, celebrating his life and career in a way that wasn't possible in 2020.
The Revival will also be the setting for the second running of the Stirling Moss Memorial Trophy, which will now become a permanent fixture on the Goodwood calendar.