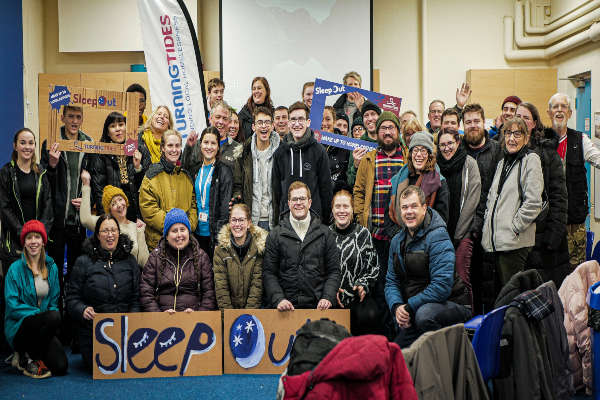 Local homeless charity Turning Tides are inviting the community to show their support on Saturday 18th June across two exciting events.  
To mark thirty years of transforming the lives of people experiencing homelessness throughout West Sussex, the public are being welcomed to find out more about the charity's innovative work, as well as experience a night without a roof over their head to raise awareness and vital funds to support people with no safe place to call home. Hosted at Worthing Football Club, gates will open at 12pm to 'Meet Turning Tides', followed by a ticketed SleepOut event opening at 6:30pm providing a unique opportunity to spend a night under the stars.
Gemma Orpwood, Turning Tides' Communications Manager, commented: "The number of people homeless across England is predicted to jump by a third in the next two years. The impact of the pandemic, soaring food and energy bills and government measures coming to an end will force more people onto our streets. Turning Tides need your help to meet the rising demands placed on our services. These two unique events will be a real opportunity to meet the people who work, volunteer and receive support from the charity. Find out the amazing work we carry out to ensure no one goes through the trauma of homelessness alone. Both events are guaranteed to be truly remarkable and thought-provoking."
Community is at the heart of Turning Tides' ambition to end local homelessness - all ages are welcome to the free 'Meet Turning Tides' event from 12pm to 4pm. The event will provide an opportunity to:
Meet frontline staff who provide outreach services across the county, ensuring everyone has access to food, clothing, support, and advice
Discover the music, art and photography Turning Tides clients have produced which not only depict their experiences of being homeless but also harnesses their strengths, creativity and tenacity
Chat with volunteers who take on a wide range of activities from cooking breakfasts at the charity's Community Hubs to collecting donated items for accommodation services
Explore ways you can get involved and support the charity; from holding your own event, becoming a volunteer or applying for one of the satisfying roles within the organisation
Hear from clients about their experience of homelessness and their time with Turning Tides
Be one of the first to step on board Turning Tides' amazing double decker bus. This innovative service is the first of its kind in West Sussex, and designed to take support on the road to people experiencing homelessness in rural areas. Originally a vintage passenger bus, now converted into a mobile hub complete with kitchen, washing machine, shower and toilet.
From 6:30pm onwards, Turning Tides' Big Summer SleepOut ticketed event begins. Bed down at Worthing Football Club from dusk until dawn to show the community your commitment that no one should be without a home. The event will include the opportunity to hear stories from those who have experienced homelessness and the frontline keyworkers who support them. Participants will receive a light evening meal, breakfast and unlimited hot drinks.
Pre-registration is essential. Tickets cost £20, with a current early bird discount offer of £15. Participants are encouraged to raise sponsorship for the event, with Turning Tides providing plenty of fundraising support.