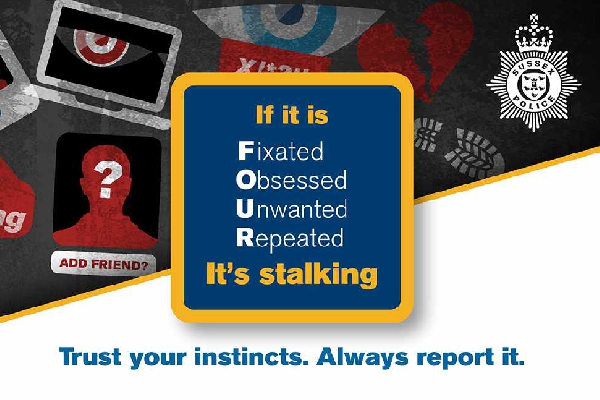 Photo credit: Sussex Police
Sussex Police and the Sussex Police and Crime Commissioner are reminding people of assistance and advice available, in addition to expert investigation, in support of National Stalking Awareness Week, 19-23 April, 'Unmasking Stalking'.
Police are already advising and supporting more stalking victims than ever. As the second highest recorder of stalking offences after the Metropolitan Police, reports in Sussex are up by more than 100% in just three years, with more victims feeling confident to come forward to report offences.
The force recorded 13,324 reports of offences involving stalking during 2020.
Detective Chief Inspector Mick Richards said: "We are committed to continually improving our understanding of stalking and harassment and our response to it.
"We have improved training for officers and staff and have ensured specialists are on hand across the county to offer expert advice and support to colleagues every day to keep people safe and feeling safe. We want victims to be confident and know we will take all reports seriously."
As soon as a new law came into effect in January last year, Sussex was the first force in the country to secure court Stalking Protection Orders (SPO's), which run for a minimum of two years.
The force has already secured 30 SPOs and applications for a further five are currently due to be heard by courts in Sussex.
These Orders equip police with valuable powers to better protect victims or anyone connected with them in stalking cases. Significantly, SPOs enable police to enforce both prohibitions and/or specific requirements.
Mick Richards adds; "During the current Covid-19 pandemic and as it hopefully recedes, your safety online remains particularly important and there are a number of steps you can take to protect yourself.
"In particular, don't be tempted to 'block' your caller, delete messages or throw away gifts as they could be used as evidence later on.
This might include audio recordings, films or pictures, copies of emails, text messages, screenshots and similar material. You can also keep a log of all the incidents that have occurred.
"Always report it. Getting help early will assist in protecting you. This can be done by contacting us online, by calling 101, or 999 in an emergency."