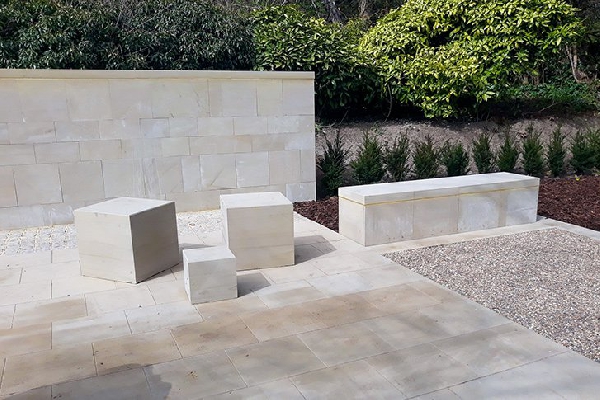 A new-and-improved children's memorial garden has been built at Worthing Crematorium, giving visitors a tranquil space to reflect and remember lost loved ones.
Worthing Borough Council has installed a new memorial wall, pathways, steps and landscaping as part of the project, which took six weeks to complete.
The new design also includes the existing stone circle, in which cremated remains have been scattered.
Now, the garden has a stronger presence within the grounds and is more spacious, attractive and overlooks the crematorium's lawn.
The previous space inside the crematorium was part-funded by a group of parents in memory of the children they have lost. It will now be officially named as the 'Forget Me Not Garden' - the name originally chosen by the group.
The memorial wall has been made with York stone and is pale in colour, to represent a child's innocence. It will be used to hold plaques which can be purchased at the crematorium office.
The existing plaques on the wall will be remade and replaced before the garden officially opens, which will be at a later stage once COVID restrictions are further eased.
For wheelchair users the space is also now much more accessible. Works were carried out by contractor Landbuild and overseen by the Councils' engineering and surveying team, alongside the Crematorium.
James Thomas, Crematorium and Burial Ground Operations Manager, said: "Worthing Crematorium is a special place for many people and we're always looking to work with locals to provide the spaces they desire, to remember loved ones.
"We recognise the need and importance of the children's memorial garden inside the crematorium, which is why we have revamped it for those who wish to use the space to reflect and mourn.
"Although it is not open yet, we hope the new-and-improved space will provide some comfort for those who need it. Once the garden is able to open, we will announce this to the public."