Hats off to Sussex businesses - V2 Radio Business Awards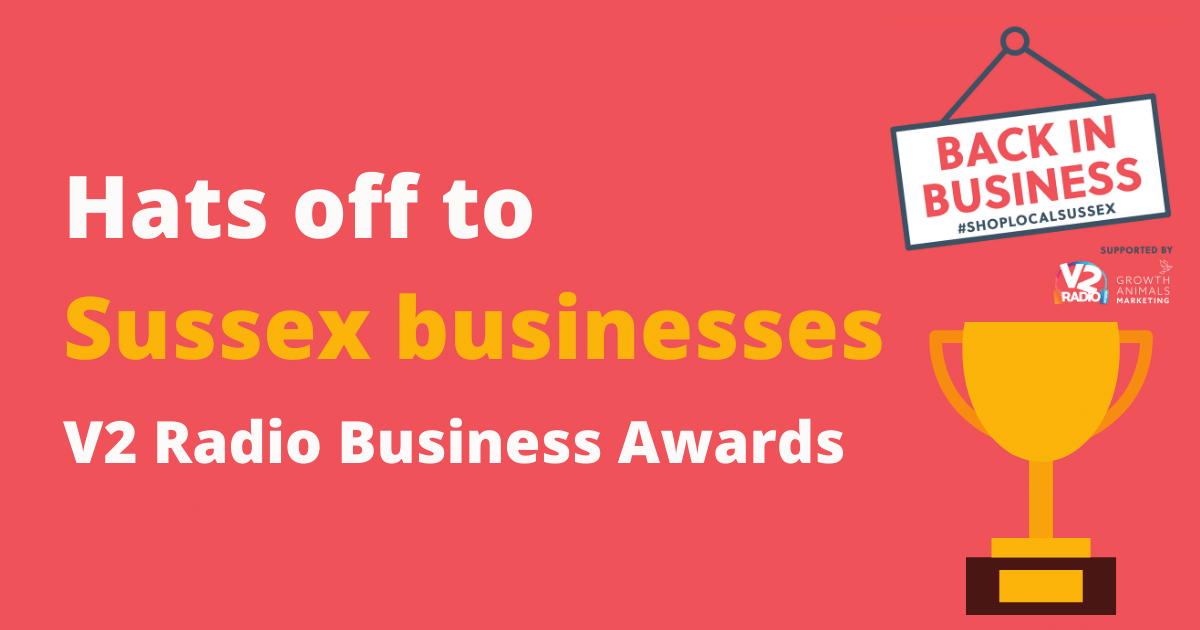 Hats Off To…
In collaboration with local company Growth Animals Marketing, V2 Radio has been creating opportunities to celebrate the brilliant array of small and independent businesses we are lucky enough to have across the county, recognizing those who have gone above and beyond since the lockdown.
Over the past month, listeners of V2 Radio have been stepping forward in their drones to nominate and vote for the independent Sussex businesses they believe have shone in the past year.
The Listeners Have Spoken
The shortlist went to public vote on social media and we are delighted to announce the winner and runners up of the three categories. Congratulations to all that were nominated, a full list can be found here. All nominations were extremely worthy businesses, who have done themselves and their communities proud.
The winning company from each category will receive a bespoke campaign on V2 Radio, the consultation and digital marketing services of Growth Animals Marketing, and of course, their own V2 Radio 'Hats off to Sussex businesses' trophy and will be interviewed on air in the forthcoming weeks.
And The Winners Are...

Category 1: Digging Deep
V2 Radio asked the public to put forward independent businesses who have overcome adversity and pivoted their offering during the lockdown to adapt to the changing market conditions, and these businesses have absolutely met this criteria:

1st Place: Pier Road Coffee and Art, Littlehampton
The clever team at Pier Road Coffee and Art adapted the business so that artists, who like many were negatively impacted by the situation, still had a way to reach a wider audience to showcase and sell their work. The coffee shop pivoted to provide an excellent delivery service of afternoon tea and cakes and ran competitions to engage with the local community.

2nd Place: Dramatis, drama organisation, Bognor Regis
Throughout the pandemic, the brilliant Suzy at Dramatis worked hard reaching out to local adults and young people to run drama activities and play readings, quickly switching in person interactions to online. Dramatis have provided cheerful, lively and inspiring sessions during the bleak months when many people, of all ages, felt isolated and demoralised.

3rd Place: Nick Clark Children's Magicians
Significantly impacted by Covid-19, the generous Nick quickly diversified offering online magic shows and discos, in exchange for a donation to charity. This meant that children, who found lockdown so difficult, could still enjoy being entertained, and many charities benefited, including Chestnut Tree House, Pacso and Trussel Trust Foodbank.
Category 2: Reaching out
The public were asked to flag organisations who have been outward looking when the lockdown hit, who have, despite challenges, supported the community and gone above and beyond to help, and those that really stood out were:

1st Place: Pinks Parlour, Bognor Regis
Owner Katy and her employees at Pinks Parlour have been described as an "amazing local asset." In her Ice Cream shop, Katy consciously employs people from all parts of the local community and treats every customer with care and attention. Katy regularly supports local events and is always the first to help with fundraising and getting exposure for good causes.

2nd Place: Cathedral Wealth Management, Chichester
Those at Cathedral Wealth Management used initiative and community spirit to reach out and help others during COVID times. From local medicine and food runs, to international aid to orphans in Africa, even more vulnerable because of the pandemic, the team worked hard to help as many people as possible, looking outwards and putting others first.

3rd Place: The Lamb Inn, Angmering
Despite having to close their business for much of the lockdown period, owners of The Lamb Inn, Brian and Elaine, organised donations for local hospital workers, a book and puzzle swap to raise funds for local charities and donating their food stocks to those in need. Volunteers at the lifeboat station, Brian and Elaine are renowned for their warmth and generosity.
Category 3: Just did it
Voting for new businesses, formed in lockdown despite the unstable economic conditions and risk and have held their nerve and given it their all to make their business a success, the people of Sussex were extremely supportive of:

1st Place: Mitchell's Travel, Bognor Regis
Mitchell's Travel did their absolute best despite the circumstances, bravely setting up their new shop despite there being travel bans and restrictions. Going above and beyond helping their own customers rebook their holidays, keeping them informed with all the latest guidelines and even assisting those who did not book through them get their money back.

2nd Place: Copper Pan Fudge Company, Arundel
The Copper Pan Fudge Company is a determined and fearless independent local business who, despite the pandemic, have managed to rework their business and even open up a shop in the most uncertain times. They are constantly innovating, offering new products and really getting to know what their community wants and needs, both online and locally.

3rd Place: Midnight Blush, Littlehampton
Tenacious business owner Rosie got the keys to her new business venture the day the second lockdown was announced. She worked relentlessly to reach customers via live shopping events, collaborating closely in partnerships with other businesses. `'Rosie hasn't just survived lockdown as a new business, she has thrived, been creative and never gave up.

Our very best wishes to all the determined Sussex businesses who are coming out of the pandemic. The independent organisations across the county are integral to the economy of Sussex, to the local job market and to the fabric of our communities.

We continue to support local businesses, if you are a local business owner yourself, don't forget to add your business to the V2 Local Directory.

V2 Radio & Growth Animals Marketing