Get a bra that really fits

The magical feeling that women get during a bra fitting at Smitten is very real.
Smitten have many forms of training under their belts as fitters that help create that feeling of wonder and pure joy, but they love sharing their skills to help you feel and look your best. Everyone deserves a well fitted bra and the upmost of comfort.
Many women who complain of discomfort when wearing bras are wearing the wrong size or style. When the wires are digging in, because they are too small to contain the bust, it is no wonder the soft breast tissue is affected. Certain bra styles just don't suit certain bust sizes or shapes. During a fitting, we can show you the perfect fit for you, including size and shape.
Best tips for finding the right fit!
Use the services offered by a specialist
Book in for a professional bra fitting. This is a vital step in ensuring you get a perfect fit for you. Use their expertise and take all the guess work out of it. A fitting at Smitten is free, only takes about 30 minutes and is all done in a friendly, supportive and non-judgemental way.
Learn what shape your breasts are
Some of us have top heavy breasts which is where we carry more weight in the top part of the breast, others have the opposite where the weight of the breast is carried at the bottom making the bust feel quite heavy. Some ladies have extra breast tissue at the side which can appear near the armpit in the wrong style of bra and creates unwanted bulges. There's a full breast shape where the weight is carried evenly and this opens up the possibility of wearing most bra styles.
Knowing which shape you are allows you to choose the bra styles that will fit you the best. Smitten can offer advice if you need to learn about which breast shape you have and which styles work best for you. They'd be happy to find your fit and teach you about the difference in styles of bras that are available out there.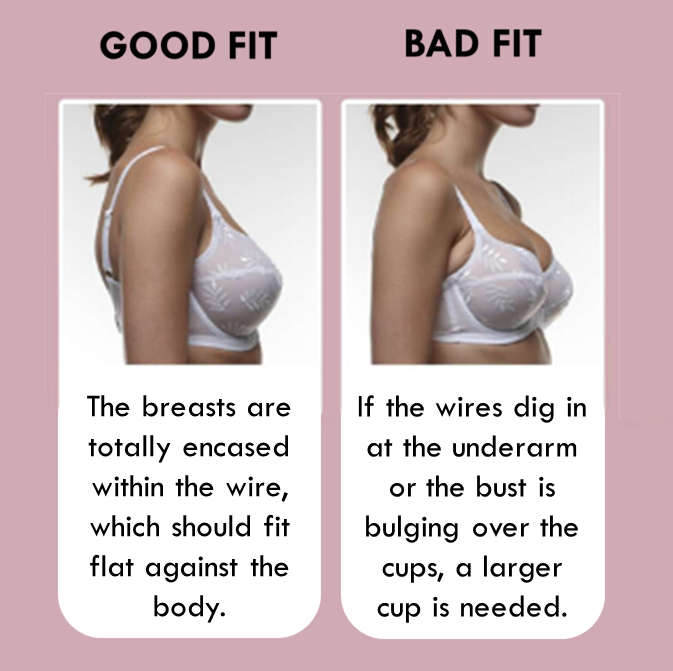 Cups are key
When putting on your bra, do the 'gravity shuffle' by leaning forward and dropping your bust into the cups. This method ensures that your entire breast is in the cup and the soft breast tissue is facing forward.
If you notice that the cup isn't full, the material is rouching or there is breast tissue coming out of the cups, you need to alter either the band or the cup size. This is something That is seen very often during a fitting but is one of the easiest things to fix.
If you notice that the cup isn't right but don't know how to change the size you are in, go & see the lovely ladies at Smitten and they'll show you exactly how to make it right and get you fitted in a fabulous new size perfectly suited to your bust shape.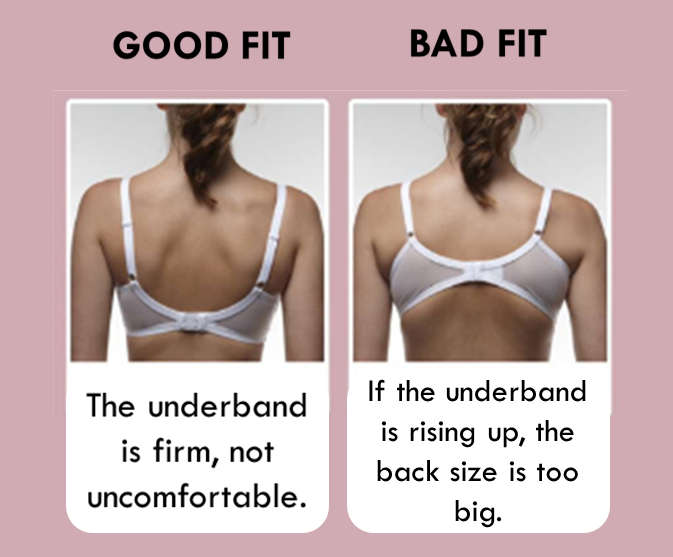 Band basics
The band carries about 90% of the weight of the bust so it needs to be right in order for it to do its job properly. When you do your bra up, we advise to use the loosest setting so you have room to make the bra tighter when the elasticity starts to give (about 6 - 8 months depending on how many bras you have and how often you wear that particular bra). When done up, you should be able to slide two fingers under the band and sweep them round the sides easily. The band should lay flat against the skin and sit straight on the body. If it rides up during the day, it needs changing!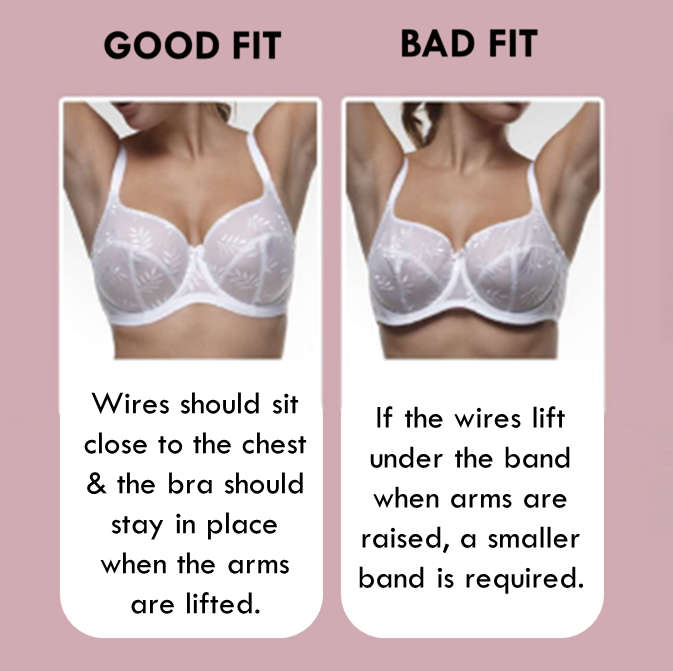 Underwires
(Yes! Underwires are supposed to be (and can be) comfy!)
Underwire bras are designed to be supportive AND comfortable. If the wires are digging in to the soft breast tissue or you can feel the underwire digging in under your bust, it needs looking at. The underwire is designed to hold up the bottom of your breast tissue and sit gently on the skin. It is important that the wire remains in position as a bra that is too loose will do you more harm with chaffing and not properly supporting your bust. The centre gore (centre of your bra) should lay flat against the skin, if it is sitting proud of your body, it is a sign that your bust is not properly fitted and the size isn't right.
Providing a truly bespoke fitting service with the kindest, calmest and gentlest of manners, Smitten have a real passion for treating each & every customer as the unique individuals they are. The bra-fitting service is paramount to leaving the store with a flawless new fit, but the kindness & compassion shown by the staff is what sets Smitten apart. They can help make sure that you are beautifully fitted and you walk out of your fitting with a smile on your face, a spring in your step and the perfect shape & size to your bra.
On top of that, once you have the perfect bra, you can drop your old, unwanted, wrong-sized bras in to Smitten's Bra Bank, in aid of Against Breast Cancer. The V2 Radio Bra Bank will be there until Friday 25th March. However, Smitten has a Bra Bank as a permanent fixture within their store all year round.
Go to Smitten-Lingerie to Love, get yourself booked in for a fitting & walk away with Lingerie to Love.