The Olive and Vine - Midhurst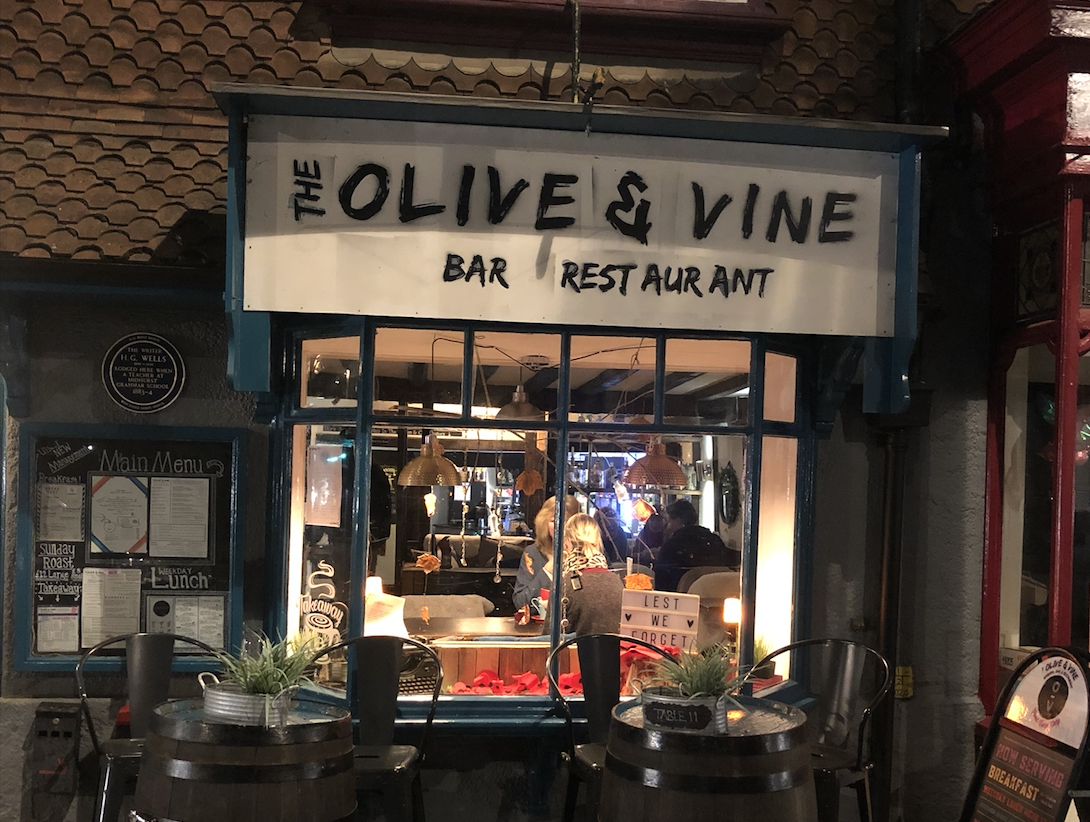 First things first - this place is a TARDIS. From the outside it looks quite small and intimate but once you walk in, it just keeps going and going, even spilling out into a beautiful outdoor area perfect for the summer months. The venue may be far bigger than first thought but it doesn't lose its intimacy and cosiness. The decor is fabulous too, nicely rustic but with a real attention to detail.
When we arrived, we were taken to our table by Ellie who looked after us throughout the evening with a warm smile and friendly approach. Now that I am no longer on the "Wedding dress diet" the salad was out (although, it did sound lovely) and a slightly less healthy main was to be selected. That said, I couldn't decide between the O&V burger, a selection of tapas or the pan-fried Seabass with roasted new potatoes, tender stem broccoli and chive veloute sauce.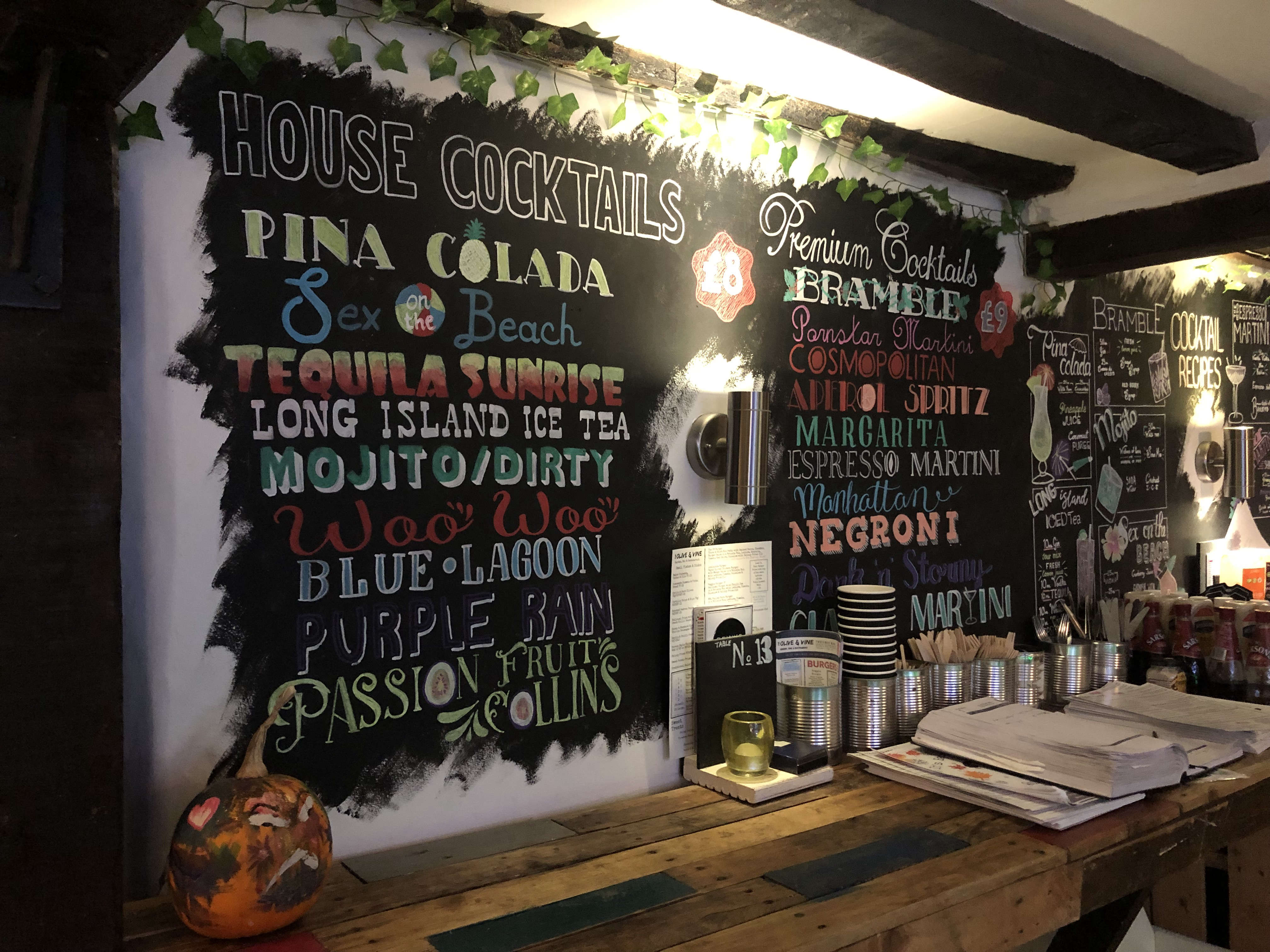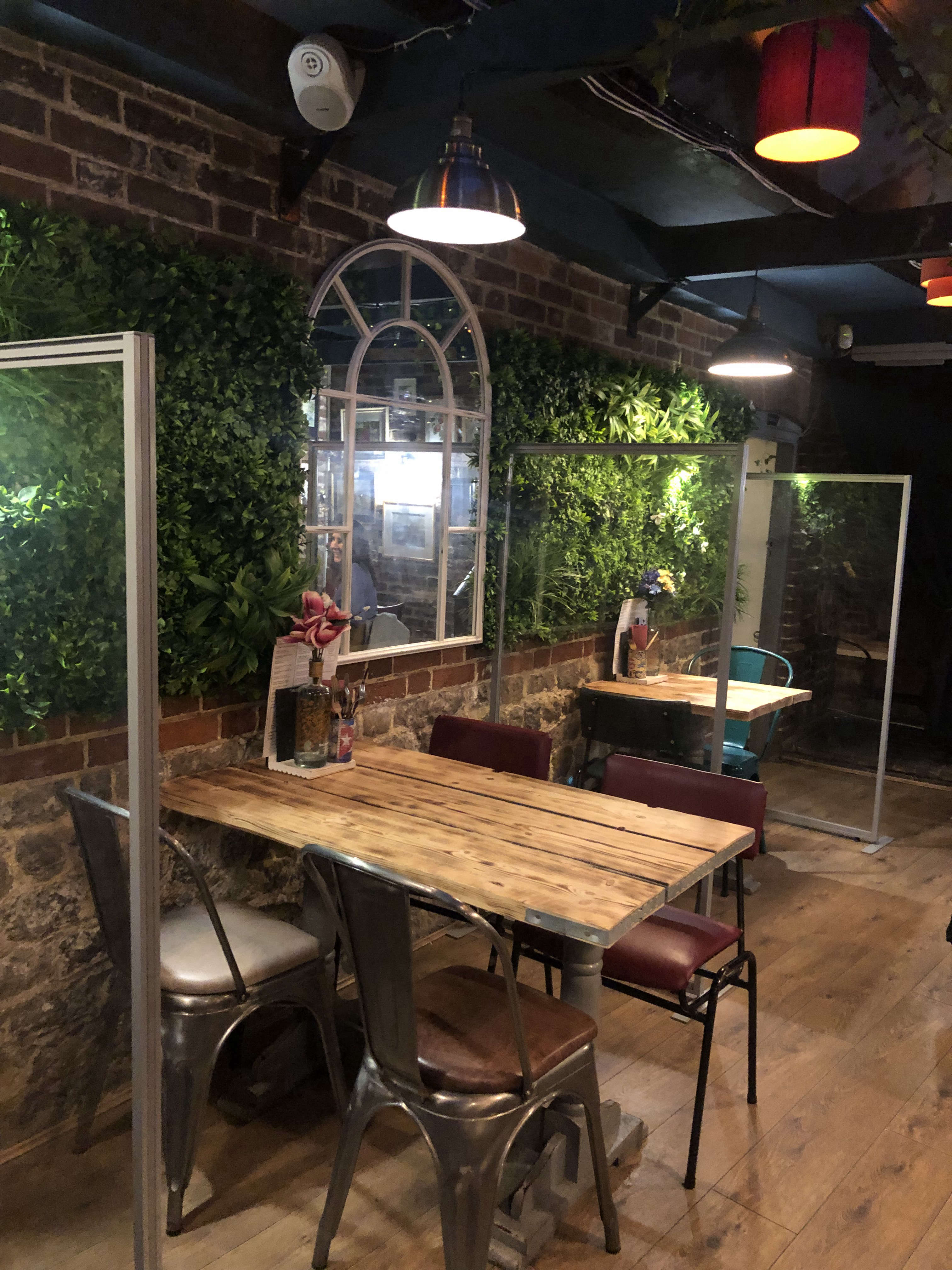 I asked Ellie what she would recommend, and she assured me that the O&V burger would be a winner. I was salivating at the thought of the Chuck & short rib patty with smoked bacon, cheddar in a brioche bun with lettuce, gherkins, tomato, red onion, and coleslaw with sweet potato fries. I was also intrigued to see that £1 from each O&V burger sold supports the Charity "Mind". So not only were these dishes very reasonably priced but money from my burger was going to a very worthy Charity.
My burger arrived and it was perfectly cooked, it just melted in the mouth. The fries were plentiful too - a very generous helping.
My dining companion, Mike Tinder, opted for the 8oz Sirloin Steak with peppercorn sauce, skinny fried and salad. He is a man of few words but "This is the Best Steak I've had in absolute ages" seemed to me like the most glowing review.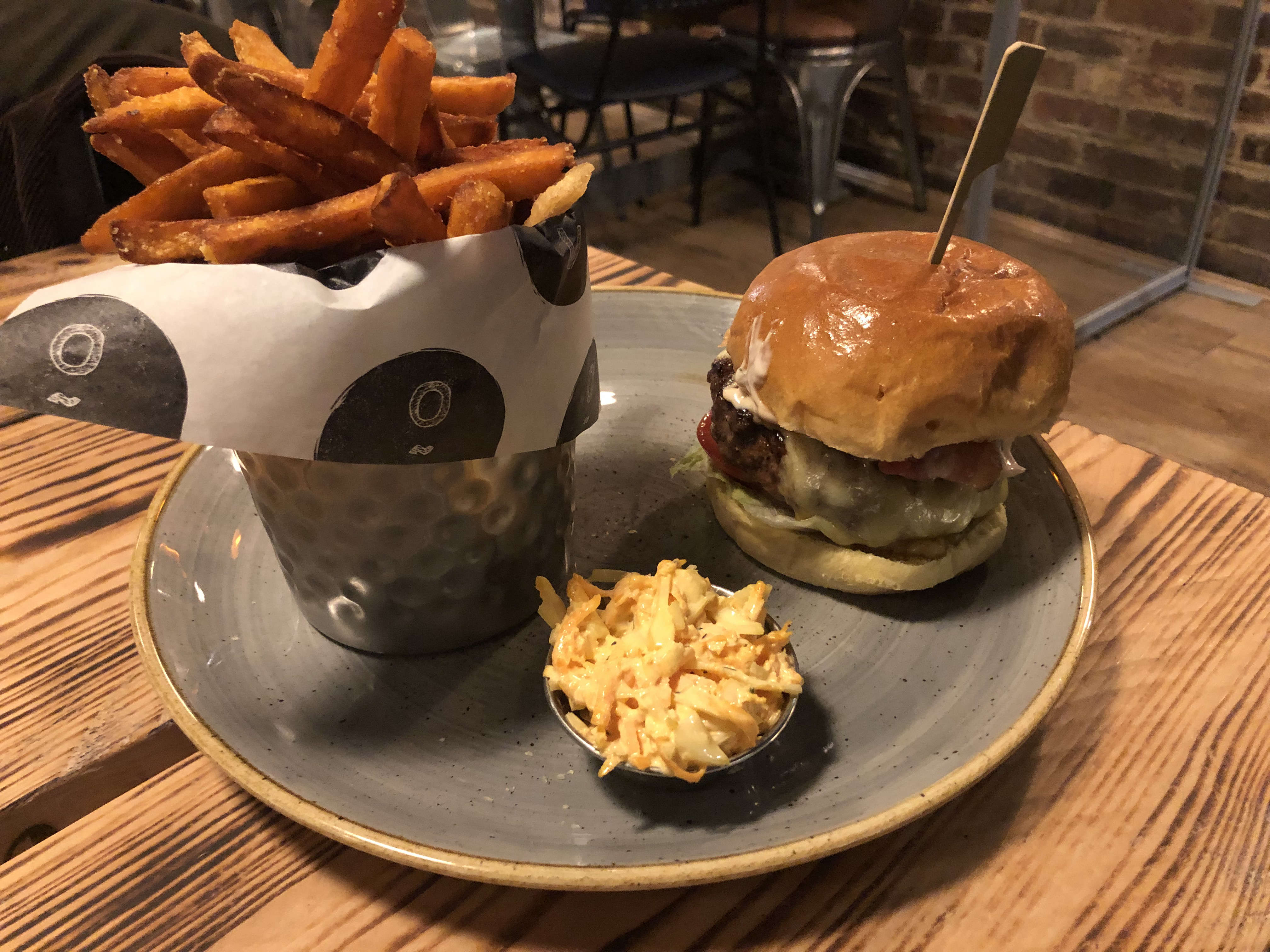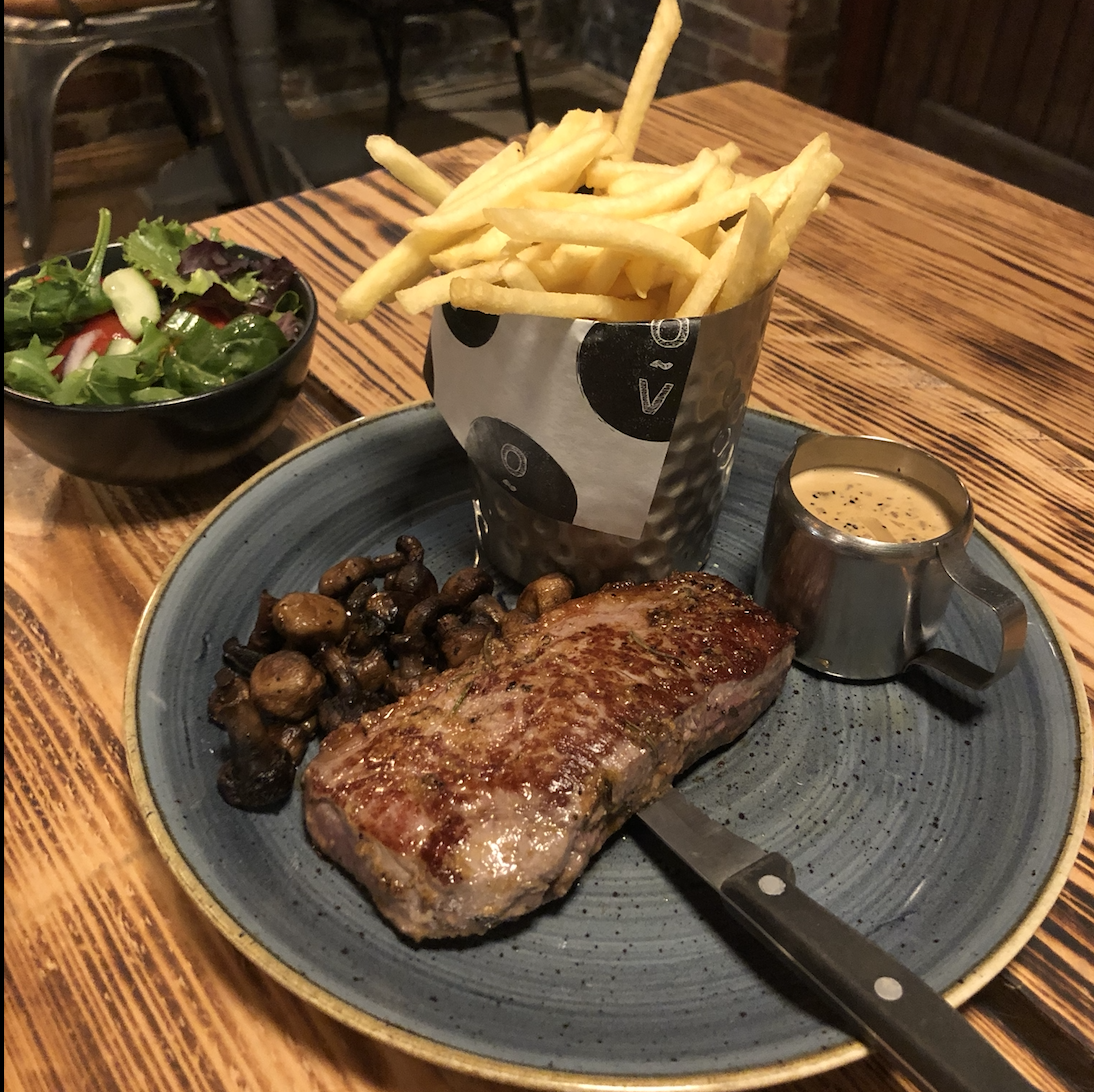 After the meal I managed to catch up with joint owners Damien and Robbie who have been running the restaurant and bar since 2018, so it is fair to say that they haven't had the easiest run of it after the last 18 months. They have a real sense of community though, with their donations to charity, live music, quiz nights and not forgetting the daily Happy Hour! Also, having recently spent many, many hours on the hunt for a wedding venue, I could see The Olive and Vine being PERFECT for a smaller more intimate wedding reception.
The meal was gorgeous, the service faultless and the feel of the venue was warm & welcoming. I wouldn't hesitate to recommend the Olive and Vine Bar and Restaurant and I'm already planning my return visit.
Milly Luxford
01730 859532 - The Olive & Vine Website - The Olive & Vine Tripadvisor
The Olive & Vine Facebook - The Olive & Vine Instagram