The Royal Oak (The Pink Pub)
I must confess that despite living not too far from, and probably passing by The Royal Oak more than 5000 times in my life, I hadn't been into 'The Pink Pub' for over 10 years for a drink, and had never had the chance to sample their menu.
My wife, Alex, and I visited on a Wednesday lunchtime, and were quickly seated. The Royal Oak is a small cosy pub, with a friendly atmosphere – and as we were taking our seats, we noticed a group having a drink and enjoying the traditional pub ambiance.
The menu will leave you spoiled for choice with a variety of starters, jacket potatoes, baguettes and mains including steaks, fish & chips, liver & bacon and burgers. We were also presented with a specials board, from which we both chose our dishes. Alex chose the Hunters Chicken, and I was tempted by the Steak and Guinness Pie.
Both dishes had a choice of mash, new potatoes and chips, and accompanying options of peas, seasonal veg or Salad. Some of the 'specials board' dishes come with the option of having a 'smaller portion' rather than a full size serving – something I took advantage of, as it was only lunchtime, and I never think a meal out is complete unless you have a dessert.
Not long after we had placed our order - the aroma of home cooking from the kitchens started to fill the air.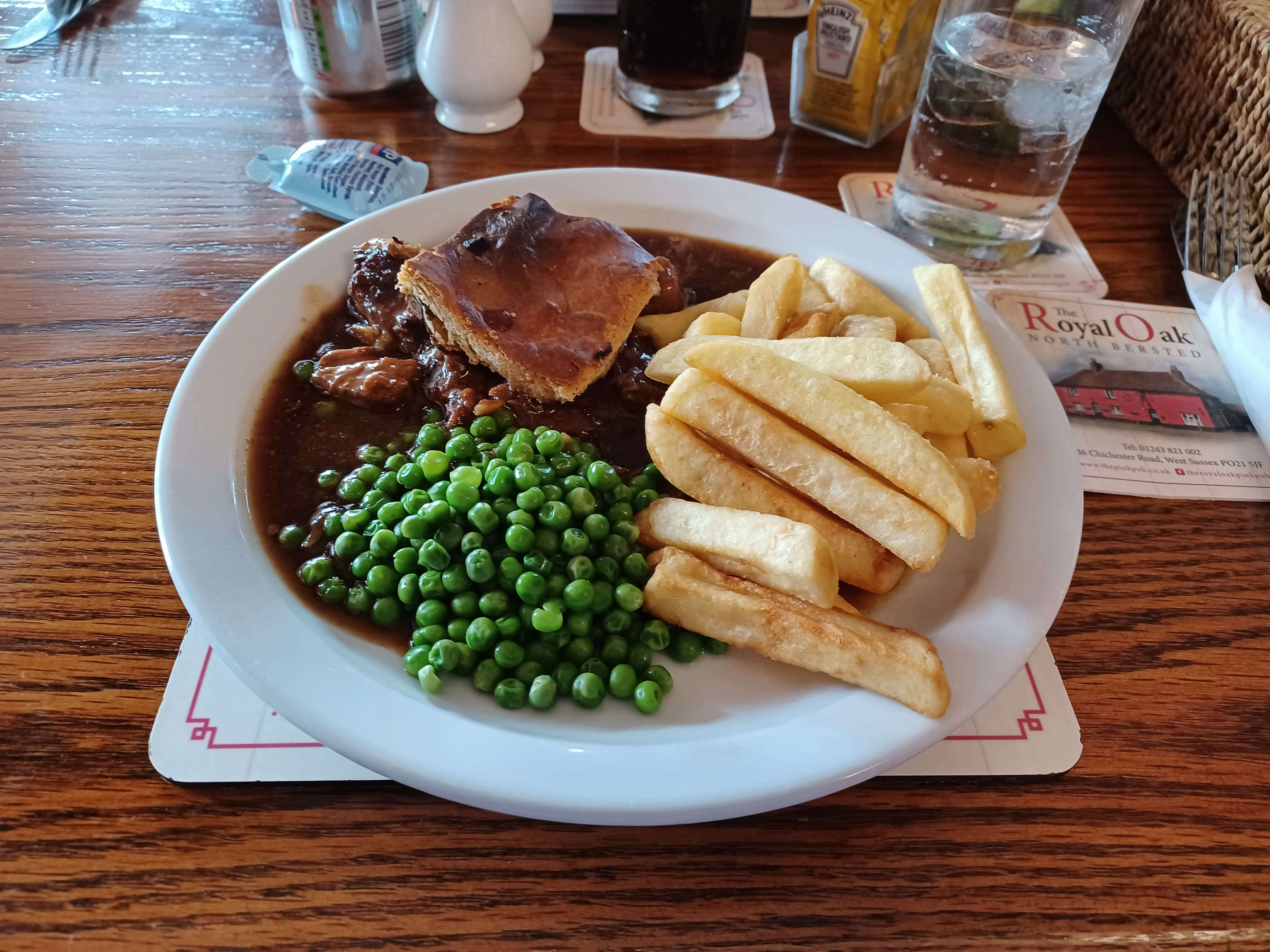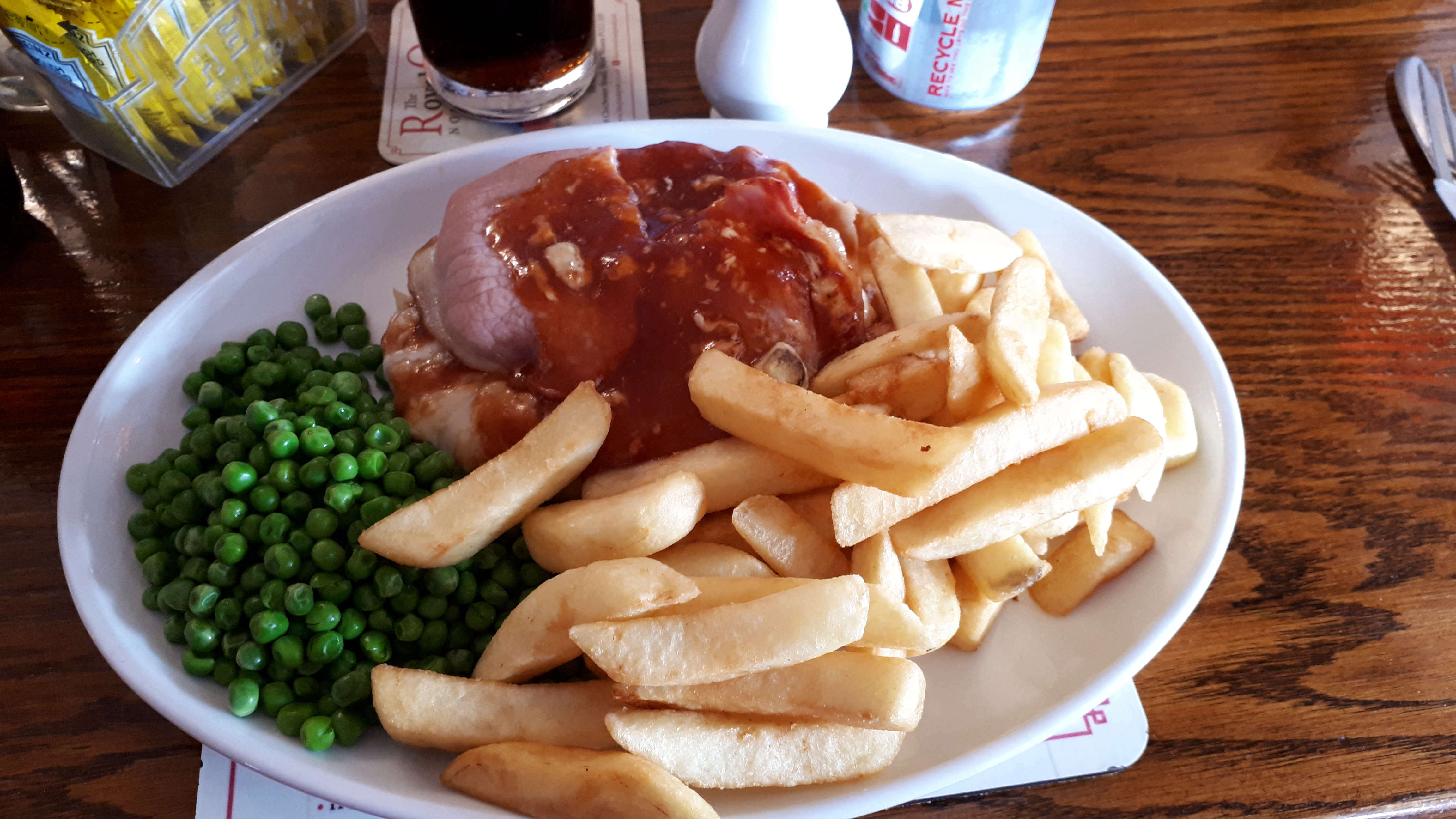 The Royal Oak is one of those buildings that is deceptive, as, much like Dr Who's Tardis it appears bigger on the inside than on the outside.
As well as the kitchens and restaurant dining room, there is a traditional bar at the rear, with a door that leads to the hidden gem of an outside courtyard – with a few tables and shade – I can easily imagine whiling away a few hours with a cold drink on a warm summer's day in this area.
The freshly home-cooked food was soon at our table, and we were both impressed. My portion of Steak & Guinness pie was full of large chunks of steak, with a rich - almost decadent gravy, ensuring the meat was full of flavour and succulence. Alex's Hunters Chicken (for which she had not opted for the smaller size) – was a more than generous portion – with juicy, tender, melt-in-the-mouth chicken, good quality bacon and cheese, with a BBQ sauce that was enhanced with the juices of the melted cheese.
After our mains, we were curious to see the desert choice which included traditional fayre, such as Apple & Blackberry Crumble, Syrup Sponge and a Gluten Free Brownie. We decided to share a Treacle Tart with Custard – which had the right mix of sweet and warming spices.
The tart drew the attention of the couple on the next table, who were convinced to have a piece themselves after their main course!
The friendly welcome and service from the staff, together with the tempting home-cooked choices on the menu will ensure that we will be back for more at The Pink Pub very soon.
Peter Phillips, August 2021