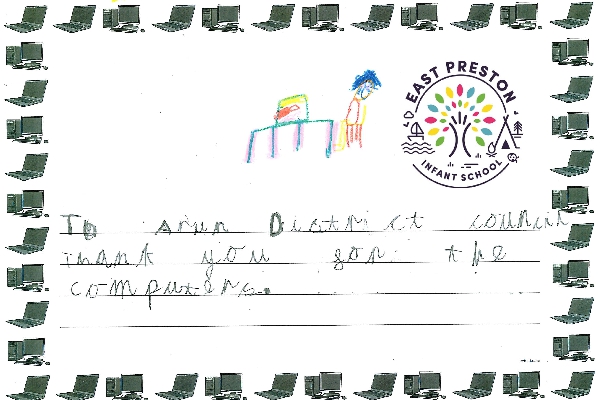 The council even received a thank you letter
Two local schools have benefitted from more than 40 second-hand computers donated by Arun District Council.
The computers had reached the end of their business life as they were no longer effective at running council systems. Rather than going to waste, the council came up with the idea of donating them to a local school as they were still functional for basic use.
After being wiped of data, the computers were delivered to East Preston Infants School by the council's facilities team. As they didn't need all the devices, the school generously passed ten on to St John the Baptist CE School in Findon so that youngsters there could also benefit.
Claire New, headteacher at East Preston Infants School, said: "I would like to thank Arun District Council for facilitating the idea of donating ex-council computers to help local schools, such as ourselves, with aging IT infrastructure. We have already started deploying the computers into classrooms to replace our oldest machines and our pupils are very excited to see and use them."
Sally Johnson, Business Manager at St John the Baptist CE School, said: "Thank you for donating so many computers to Stephen Hill at East Preston Infant school. We are part of the Angmering locality group of schools, and I work closely with Stephen who has kindly let us have ten of them for our pupils. With the constant drain on school budgets, donations of equipment are very much appreciated. Many thanks again and I know the children will enjoy using them."
Councillor Paul Dendle, Chair of the Corporate Support Committee at Arun District Council, said: "We are delighted to hear that pupils from both schools are already enjoying the computers that were no longer of any use to us, it was great to receive thank you letters and self-portraits of them using the computers. "Not only have the schools benefitted, but the environment has too – the UK is currently one of the largest producers of household e-waste in the world so it's great to see these computers being reused."