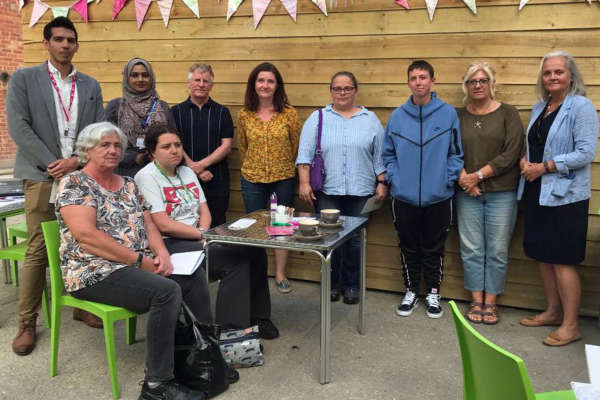 Despite eye-catching announcements from Government about a Health and Social Care Tax that will revolutionise care provision, the reality for many local families is escalating care charges imposed by West Sussex County Council
Their plight has been taken up by Worthing's Labour County Councillors. Cllr Dr Beccy Cooper, Cllr Henna Chowdhury and Cllr John Turley. They've met a number of these families and heard first hand about the impact of huge increases in charges this year – some as high as 400 per cent.
"Not only have they had to face these savage rises, they're frustrated and exhausted from having to deal with what they see as an uncaring, faceless system. And they fear that if they challenge the increases, they could face even harsher financial penalties," said Cllr Cooper.
Care charges are made for services provided for those with care needs who live in a family home or independently. The Care Act gives local authorities the option of whether to charge or not, but makes it clear that: 'The over-riding principle is that people should only be required to pay what they can afford'. The Worthing Labour County Councillors are concerned that this principle has been jettisoned by WSCC in their efforts to cut costs. And that sharply rising charges for care services are pushing many of those with care needs, and those who care for them, below the poverty line.
The increased charges were introduced in March this year, and were backdated to January, meaning that those with care needs, and their families, have found themselves with additional debt at a time when the cost of living is rising. On top of that, the families say that the assessment process that has resulted in these swingeing increases has been shambolic, and that forms have been riddled with "nonsensical jargon".
"Many felt they risked inadvertently reducing the benefit entitlement of the loved ones they are caring for because of the way the forms were written," said Cllr Cooper. "Others didn't even have the luxury of being able to fill in an assessment form. They were simply notified that an assessment had been conducted on their behalf, using information that was five years out of date."
"This is an absolutely appalling, unjustifiable mess. The County Council has increased charges unreasonably and without a thought as to the impact on the lives of the people who most need help. The County may be acting within the law, but it is certainly not acting in the best interests of the people that it is here to serve."
"We should be looking for every opportunity to help those who want to stay in their own homes, family homes or in assisted living homes, and we should be aiming to help family carers, not penalise them in this way. Speaking to the families affected has reaffirmed how fragile our current care system is and how these essential carers are at the end of their tether as to how best to now manage their financial predicament," she said.
"Carers want to be able to send their family members they care for to day services, where they can thrive, develop their own skills and enjoy some independence. But with the charges increase, carers are now considering the very real possibility of opting out of these services to ensure that the budget they have can cover essentials such as food, heating and rent. Without these services, they also lose the time for respite and so the cycle of exhaustion and deprivation gets worse for them," said Cllr Cooper.
Operations Manager for Worthing Mencap Society, Richard DeNiese, said "Although increasing care charges is within the law, West Sussex County Council do have the discretion to not take charges to the maximum limit, but they are choosing to do so,"
"It goes completely against the principles and the ethos of the Care Act 2014. By taking away all excess income from people who have no means of being able to generate more, they are severely limiting people's life opportunities.
Mr. DeNiese is very concerned that the way WSCC is financially assessing people is inconsistent, and their rights and entitlements are not being explained to them properly. "Families that save the council millions of pounds each year are being faced with threatening pay demands for amounts they cannot afford to pay. This is all so that their family member can receive the essential care that they need."
The issue of the care charge increases is on the agenda of the Health and Adult Social Care Scrutiny Committee of WSCC on Wednesday 15th September. Families with children and adult members hit by the increased charges are taking their concerns direct to Councillors attending the meeting. They'll be protesting outside County Hall, Chichester from 9.30am.
Adrian Foote's Story
Our son, Adrian, is 32 with the speech and functioning age of a young child. He's illiterate, innumerate and has no understanding of money. As his parents are unpaid carers, we save the local authority money, but face a client contribution which has risen from £4 per week 3 years ago to £39 a week now. Throughout the pandemic, services were restricted but the client contribution went up from £29 to £39 a week.
We spent £600 of our own money to give him an income from mowing the grass, edging and pruning round the estate and not a penny was claimable.
The money Adrian receives has declined over the last decade whilst the contribution to the services he receives has risen hugely.
Anthony and Lynette, Adrian's parents
Saskia Granville's story
My daughter Saskia Granville has a learning disability and lives in supported accommodation in Worthing. She burst into tears when I told her that her care charges had increased from £92 to £515 a month – a shocking increase of more than 400 per cent.
A sum of almost £1,500 was also taken out of Saskia's bank account as a backdated payment, in March, leaving her in debt. Without my intervention, she wouldn't have had any food that week and she wouldn't have been able to pay her gas, electricity or water bills.
I have fears that the charges will curtail her independence The rise has left Saskia worrying whether she can continue playing football each week - and coaching a girls' team - because of the train fare and team subscription. It's very important to her as it's her favourite sport.
She is challenging the charge increase but we've not made any progress.