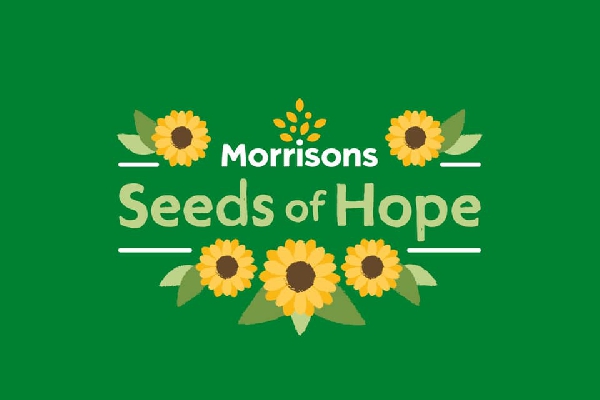 Morrisons' Community Champion (CC) in Littlehampton are giving away thousands of sunflower seeds this week, so residents can plant them, and watch them grow.
Alison Whitburn, who works for the organisation told V2 Radio she will also be donating them to local care homes, schools and community gardens - herself.
Meanwhile, along side this message of hope, Alison told us how our local Morrisons has been supporting the community, and it's pretty heartfelt.
She said: "Prior to the pandemic I worked 1 day a week as CC but Head Office realised we had so much work to do they invested and I now get 3 days a week - which is brill! (I have the best job here!)".
Alison was keen to tell us about all the amazing things her and the charity - based at the local supermarket have been doing over the last 12 months.
"Last year Morrisons donated £10 million of food to local foodbanks and Community groups - every store received a pallet of food for 16 weeks - we donated to Littlehampton Foodbank , local care homes and Charities.
"Since this lockdown Morrisons have pledged another £5 million of food - we get a pallet each week which I have donated to local Schools, Foodbank and FSW This will carry on until May.
"We have a ' grab bag stand' this is a table at the front of the store that has items of food in that has the price on label so the customer can grab the bag , pay at till and donate to foodbank and local Community Donation point. The customers are amazing and constantly buy goods to donate."
She has helped Amber House, a women's refuge in Littlehampton, as they needed toiletries.
Along side this, Age UK Sussex were doing care packs for the elderly and needed chocolate and sweets so Alison put them in bags.
Not only all this, she has packed up tinned coffee, sweets and suntan lotion for our soldiers who are overseas, providing the goods to Support Our Soldiers (SOS).
The Morrisons charity chooses different organisations every couple of months to help, but not even to provide food and treats, colleagues of Alison helped the Mayor with a litter picking, when restrictions allowed them to.
They have raised £34,000 in four years for their Charity Clic Sargent, donated books to school and Alison volunteers at Littlehampton Community Fridge each Thursday.
You can watch the interview with V2 Radio's Katie Lyons below.