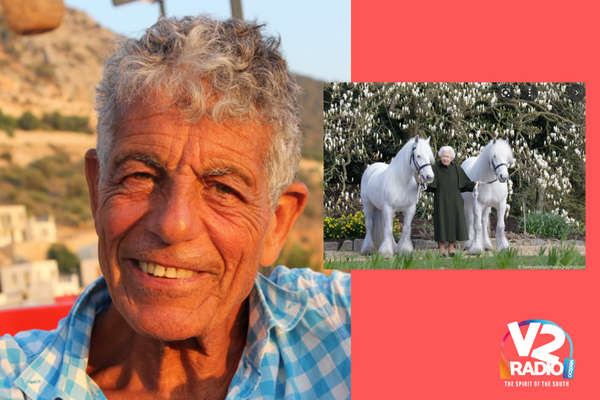 Henry Dallal began taking photos at just 9 years old
A local photographer who took the Queen's 96th birthday portrait has shared the inspiring journey that led him to the opportunity.
Henry Dallal, who lives in Charlton, was asked by the Queen if she could use his photo to celebrate her birthday, something he describes as an "honour". His journey into the photography world began when he was just 9 years old and his father gifted him a film camera.
Henry told V2 Radio: "My father would always take family pictures and he gave me a "box brownie" when I was 9 years old.
"I've always been taking pictures of things or whatever it is that I happen to enjoy or that I happen to see.
"I think over time you kind of develop an eye for what makes a good image. You don't have to be a good photographer to take that image."
When asked what constitutes a photo that Henry would describe as a "good image", he simply reveals that it must capture the viewer's imagination - with the "magic" laying within the lighting.
"[Lighting makes] a huge difference." He explains. Using the West Sussex sunrise as an example, Henry admits that "a lot of it has to do with luck."
"The sun begins to creep up, the sky lights up red. And after the sun has risen, literally within minutes, that red is gone. You have to know your subject, and you also have to be lucky."
Photographing the Queen for 20 years, it's no secret that Her Majesty was a subject that Henry indeed got to know very well. He describes how the royal's iconic 96th birthday portrait was crafted around platinum, drawing together both the colour of magnolias and two of her grey horses.
For aspiring photographers, Henry's advice is simple: "the passion should be there, the eye should be there" and "the interest should be there."
He continues, "In this day and age, everyone is taking pictures because of the mobile phone, which is fantastic.
"But for the aspiring photographer: take pictures, find what you like to take pictures of, and then just develop that passion and try to create cutting edge images."
You can look through Henry Dallal's work on his website or on his Instagram, @henrydallalphotography.
-------------------------------------------------------------------------------------------------
We have a small favour to ask.
Hundreds of thousands of local listeners across Sussex have placed their trust in V2 Radio's commitment to proper local radio since we started broadcasting in January 2021, tuning in to us to for company, local news, local travel, events and entertainment.
Unlike many others, V2 Radio has no shareholders and no billionaire owner, nor do we receive any licence fees. Just the determination and passion to deliver a quality and impartial service to our communities we serve across Sussex. And we provide all this for free, for everyone to listen to across the airwaves and to read on our website & mobile app. Everyone can benefit from open access to all our content regardless of their ability to pay for it.
Every contribution, however big or small, powers our ability to invest in campaigns like our charity appeals, our unbiased journalism and it also helps to sustain the future of V2 Radio for many years to come.