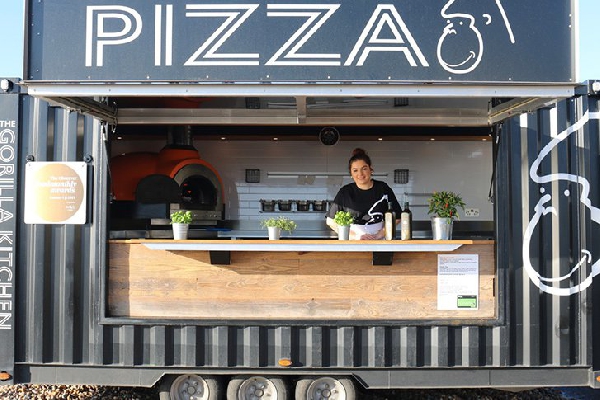 Beachside saunas and wood fired pizzerias are among the wide-range of pop-up traders getting set up for a busy summer in Adur and Worthing and bringing a vibrant mix of refreshment, leisure, arts and crafts traders to the towns and seafront.
Last year, Adur & Worthing Councils extended its seasonal programme into the winter months to support local start up and existing businesses to operate safely during the COVID pandemic. Having enjoyed a successful season, many of the refreshment traders will be staying on.
The existing traders will be joined by a number of returning seasonal operators, including the Shellfish Shack and the eponymous Worthing Gin on Worthing seafront, as well as several new pop-up traders.
This includes two wood-fired saunas, which will be providing a beachside experience in converted horse boxes, at locations in Shoreham and Worthing.
New food sellers include the Marrakech Beach Club which will be serving Morrocan street food by the river at Coronation Green in Shoreham and the BBQ Box, which will be serving hot food at Windsor Lawns in Worthing, alongside an existing coffee vendor and a new ice-cream seller.
As development work gets underway at Brooklands Park this summer, two pop-up traders will be on hand to serve refreshments to visitors to the popular lake and open space. Pop-up kite-surfing schools will once again be operating on the seafront near Brooklands and by the Waterwise playground at the Goring end of Worthing promenade.
In line with its commitment to be Carbon Neutral by 2030 and following the recommendations of the Adur & Worthing Climate Assembly in 2020, the Councils have this year prioritised awarding pitches to traders with evidence of good sustainability and waste management practices.
The includes the use of biodegradable take-away food and drink containers and the use of minimal packaging materials.
A spokesperson for Adur & Worthing Councils said: "As we move out of lockdown and prepare to welcome visitors and holidaymakers back, we're delighted to be able to support businesses through our seasonal concessions programme to bounce back from the challenges of the last year.
"We've been really encouraged that so many traders have been able to commit to eco-friendly practices and help us, in Adur and Worthing, to tackle climate change."