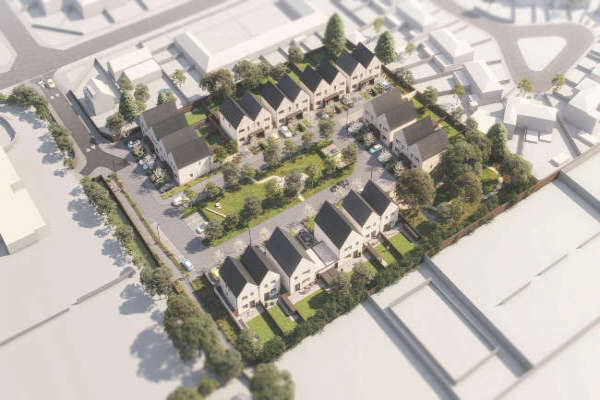 A derelict site of a former school in West Sussex is to be transformed into a community and wildlife haven.
In a bid to reduce carbon emissions across West Sussex amidst global worry about climate change Southwick is making changes.
The area formally occupied by East Brook Primary School has been out of use since 2013 when the school was closed.
The building was knocked down in 2017 following a fire.
In its place plans have been made to transform the area into a green community of homes powered by renewable energy.
Building plans for the eco-friendly site to take shape have been approved by Adur District Council.
Once the project is complete the space will accommodate 22 new properties all powered by renewable energy.
The homes are to be heated via air source heat pumps, with no gas supply. They will be designed for low water use and each will come with its own electric vehicle charging point.
The properties will range from two, three, and four-bedroom houses, along with a portion of the properties being affordable.
The plan is seven properties will be affordable housing.
The rest of the space is planned to surround a village green while a corner of the site, including mature trees and a pond, will be left as a dedicated ecology area to aid biodiversity, with no public access.
The new homes will all also be fitted with external storage for bicycles and bins.
£257,000 worth of funding has been earmarked to be spent on additional facilities at Eastbrook Primary Academy, Shoreham Academy and Southwick Library as well as cycle and public transport improvements on the A259 linking Southwick to Shoreham and Hove.
The money has been provided by the developers of the site.
-----------------------------------------------------------------------------------------------
We have a small favour to ask.
Hundreds of thousands of local listeners across Sussex have placed their trust in V2 Radio's commitment to proper local radio since we started broadcasting in January 2021, tuning in to us to for company, local news, local travel, events and entertainment.
Unlike many others, V2 Radio has no shareholders and no billionaire owner, nor do we receive any licence fees. Just the determination and passion to deliver a quality and impartial service to our communities we serve across Sussex. And we provide all this for free, for everyone to listen to across the airwaves and to read on our website & mobile app. Everyone can benefit from open access to all our content regardless of their ability to pay for it.
Every contribution, however big or small, powers our ability to invest in campaigns like our charity appeals, our unbiased journalism and it also helps to sustain the future of V2 Radio for many years to come.