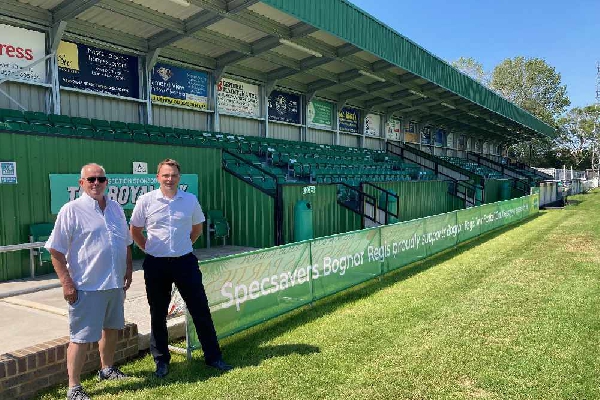 Specsavers boss Jonathan West can see backing the Rocks is a good move - and the company's support for the club is behind an extension to a substantial sponsorship deal.
Jonathan joined Rocks supporter Graham Flower, who helped negotiate the package, to unveil an advertising board in front of the impressive new stand at the Nye Camp. As well as seal the deal to continue to sponsor man-of-the-match awards and those for player of the month.
Jonathan, who is the retail director at the Specsavers branches in London Road (town centre) and within Sainsbury's Bognor, said he was delighted to be able to confirm the continued sponsorship.
And Graham said: "As a club we're ever so grateful to Jonathan and Specsavers for their continued support. Companies such as these are vital to boosting the finances throughout non-league football and we feel particularly pleased to be able to count on the firm's sponsorship."
Meanwhile, Bognor Town FC has now finalised their pre-season friendlies.
Weds 7th July Littlehampton Town (A) 7.30pm
.
Sat 17th July Havant & Waterlooville (A) 3pm
.
Sat 24th July Horndean (A) 2pm
.
Weds 28th July Portsmouth X1 (H) 7.30pm
.
Sun 1st August Dorking Wanderers (H) 3pm ( Note New Date)
.
Sat 7th August Chichester City (H) 3pm
.
Sat 14th August Season starts.