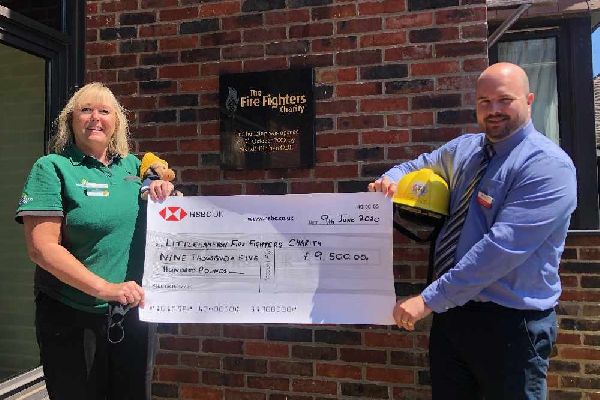 The Fire Fighters Charity have been awarded a grant of £9,500 from the Morrisons Foundation to install a pool hoist at their Marine Court centre in Littlehampton.
The vital piece of equipment helps people with mobility issues to be manoeuvred in and out of the swimming pool at the charity's rehabilitation centre.

Dr Jill Tolfrey, Chief Executive of The Fire Fighters Charity said, "The generous donation from Morrisons Foundation will make a huge difference to those we support with mobility issues at our Marine Court centre. It will enable them to get in and out of our pool safely and to experience valuable water-based therapy sessions that would be otherwise inaccessible to them. On behalf of our beneficiaries, my thanks to all those at the Foundation for their incredible support."
Ali Whitburn, Community Champion at the Morrisons store in Littlehampton presented the donation to the charity, saying,"Firefighters literally put their lives on the line to save others and I'm very proud that through the Foundation we have been able to give something back to help such a great cause. It's really heartwarming to see the difference the charity makes to firefighters who need support in our community."
The Morrisons Foundation was set up by Morrisons supermarket in 2015 and awards grants for charity projects which help improve people's lives. Since launching, over £33 million has been donated to hundreds of charities across England, Scotland and Wales.
The Fire Fighters Charity was founded during the Blitz to support the bereaved families of firefighters who laid down their lives to tackle the devastation seen across the Capital in the early 1940s. Today, the charity has evolved to support the wider fire and rescue community. It now provides nationwide health and well-being services to enhance the lives of frontline firefighters, support staff, retired personnel and their dependents