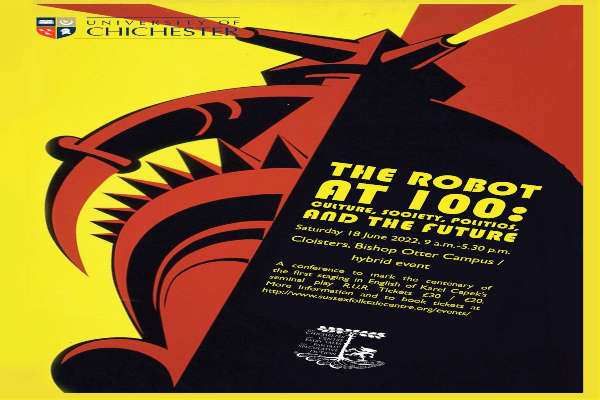 On Saturday 18 June the Chichester Centre for Fairy Tales, Fantasy and Speculative Fiction will host 'The Robot at 100:Culture, society, politics, and the future' at the University of Chichester,
An international, interdisciplinary conference to mark the centenary of the first staging in English of Karel Čapek's seminal play R.U.R. Čapek's
It ​saw the first appearance of the term robot, ​which comes from the Czech word robota meaning 'forced labour', which has its roots in the Proto-Slavic word for 'slave'.
The conference will be opened by the University's Deputy Vice-Chancellor Simeon Keates, who is known widely for his research into artificial intelligence, human-computer interaction, and building robots, which led to his competing in the hit BBC show Robot Wars.
The event's organiser and Director of the Chichester Centre, Dr Paul Quinn, said "The subject of robots bridges the artificial gap between the humanities and the sciences and we're looking forward to some very interesting panels on R.U.R, robots in literature, television and film, and the cultural and social implications of robots ​in relation to politics, work and sex."
Tickets are £30 on-campus, £20 staff/student discount.
£20 online
https://store.chi.ac.uk/product-catalogue/sussex-centre-for-folklore/events