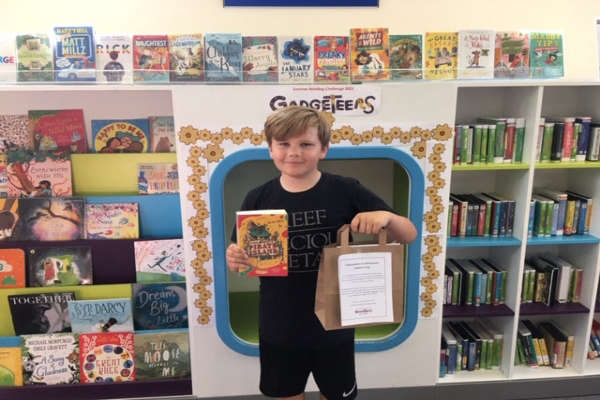 West Sussex Libraries have seen more than 7,800 children and their families sign up to the summer reading challenge.
The challenge runs until Saturday 10 September and is completely free to join, which means there is still plenty of time for families who haven't signed up to get started at their local library.
For those families who have already completed the challenge, medals and certificates are available to collect from any West Sussex County Council library where children can also talk to staff and volunteers about what they have been reading.
There are also plenty of events happening over the summer as part of the Reading Challenge. These include:
Summer Reading Challenge storytime, where staff will be sharing stories and encouraging children to become innovators with some brilliant craft activities.
Construction Clubs which are taking place at selected libraries in West Sussex where children will have the opportunity to explore a range of materials, designing and building something of their own creation.
Book Chat which will also be taking place at various libraries so children can talk about the books they would recommend.
The full listings of when and where these Gadgeteers events are taking place are available by visiting www.westsussex.gov.uk/src and clicking on the Summer Reading Challenge events and activities page link. Booking is essential but all activities are free.
A popular event with families is the annual 'Hunt the Character' challenge which takes place in all libraries and children and families can participate in this at any time whilst the library is open. This activity will run until the Summer Reading Challenge closes on Saturday 10 September.
Duncan Crow, West Sussex County Council Cabinet Member for Community Support, Fire and Rescue, said: "The Summer Reading Challenge is something many children look forward to as the end of the school year approaches. They love coming into their local library, talking to staff and volunteers about what they have been reading, looking through the shelves and finding new things to read and the fact that eBooks and eAudiobooks from the eLibrary can be counted towards the challenge makes everything even more up-to-date and exciting.
"As all our staff in libraries know, reading is so important, not just for children but for people of all ages, as reading can enhance empathy, calmness, confidence and self-esteem. It has also been known to stop people from feeling lonely. By participating in the challenge, children are not just improving within an educational context, they are learning important life skills from an early age which will no doubt help them develop and grow into more confident and understanding adults."