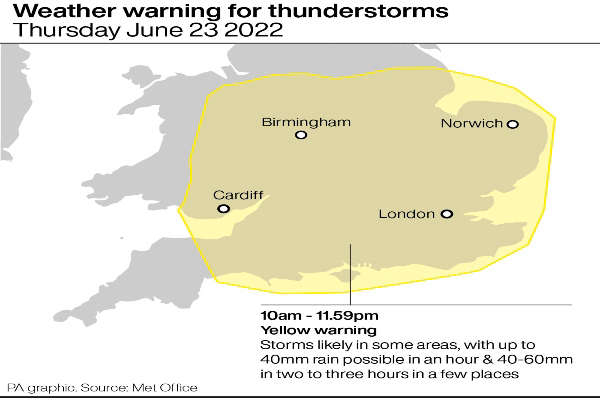 Thunderstorms could hit parts of West Sussex with fears of heavy downpours and some localised flooding.
The Met Office said there is a chance of further rail and bus cancellations due to lightning strikes, with the warning in place from 10am until 11.59pm.
In a statement on its website, the Met Office said: "There is a small chance that homes and businesses could be flooded quickly, with damage to some buildings from floodwater, lightning strikes, hail or strong winds.
"There is a small chance of fast-flowing or deep floodwater causing danger to life.
"Where flooding or lightning strikes occur, there is a chance of delays and some cancellations to train and bus services."
The Met Office also warned of power cuts to some homes and businesses, while remote communities could be cut off due to flooded roads.
It follows a balmy spell over the past few days with temperatures expected to hit around 29C (84.2F) on Wednesday.