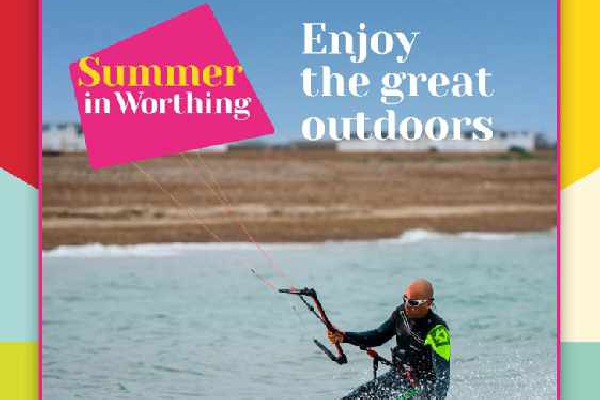 Photo credit: Adur & Worthing council
Alfresco dining, live music, street theatre, art exhibitions, watersports and stunning sunsets are among the many delights that locals, day trippers and holiday makers can look forward to in Worthing this summer.
With UK-based holidays set to boom in 2021, the Sussex town has set its sights on becoming one of this year's top day-out and staycation destinations and has unveiled a new look to promote the forthcoming season under the Summer in Worthing '21 campaign.
The campaign is the latest initiative from inward investment body Time for Worthing (TfW) - a collaboration between the Borough Council, local businesses and community organisations - to put the town on the map as a place to visit, live, work and invest.
Like many towns, Worthing's economy has been hard hit by the Covid pandemic, but businesses in the hospitality, arts and culture sectors are now bouncing back with renewed energy to welcome new and returning visitors to Worthing.
Summer in Worthing '21 celebrates the many things that Worthing has to offer. While the programme of outside events is still being put together TfW representatives say the campaign will focus on the variety of attractions available to visitors and locals alike. This includes:
Culinary delights from around the world, including dining with a sea view at the new Perch on the Pier restaurant, or at MasterChef winner Kenny Tutt's second restaurant, Bayside Social, both among a number of new eateries opening in Worthing this summer.
Outdoor theatre performances and circus acts outside the Pavilion on the seafront every Saturday throughout August.
A plethora of watersports to enjoy on the open sea, including paddle boarding, kite surfing, kayaking and windsurfing.
The Busk in Worthing festival on Saturday 14th August 2021 - a programme of new and emerging live musicians, who will be showcasing their talents at a number of spots around Worthing, including the beach, the pier, Steyne Gardens and the train station.
Member of the Time for Worthing initiative, Director/Promoter of Atom Presents, Thom Milner-Smith, said: "There's so much on offer in Worthing this summer. From family-friendly theatre and live music concerts - to an impressive choice of places to eat & drink, there's something for everyone in Sunny Worthing. I can't wait to see some live events soon!"
Worthing has already made its mark as an up and coming tourist destination, having earlier this year been named as one of the top 25 places in the world to watch the sunset.
Summer in Worthing '21 will feature new posters that will be placed around the borough and region and a new social media campaign will back this up.
Worthing-based businesses are invited to join the Summer in Worthing '21 campaign and help amplify it on social media using the hashtags #summerinworthing and #timeforworthing. To find out how to take part email contact@timeforworthing.uk