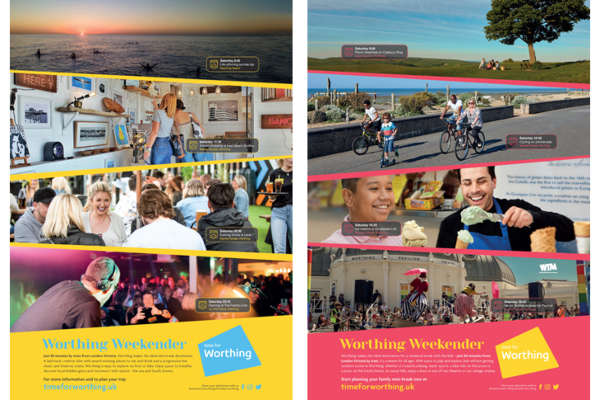 A major drive to attract weekend visitors to Worthing is under way as latest figures reveal the multi-million pound contribution tourists make to the borough's economy.
Time for Worthing, place promotion and inward investment group consisting of local businesses, community leaders and the borough council, has launched the multi-media campaign focussing on the increasingly diverse activities available here.
Called Worthing Weekender the campaign has already seen posters on train station platforms from Chichester to London Victoria and is now reaching out via social media to people across the UK but primarily to target audiences in London and the south east.
The Time for Worthing team believe the weekend market is a growth area as more people become aware of the changing face of the town and the cultural, retail, and leisure opportunities that are now available.
Separate messaging within the campaign seeks to target families and couples and uses breathtaking beauty spots, great new dining opportunities, walks, water sports, live music and theatre as enticements to visit.
Worthing Borough Council's Place Brand & Partnerships Manager, Judy Fox, said:
"There is no doubt that the borough is rapidly changing, improving its offer to residents and visitors as a great place to take part in activities or relax or enjoy our increasingly diverse cultural offering. Residents know this but we need to make sure potential visitors do too.
"There's a buzz around here especially in Spring and Summer which maybe wasn't here years ago and we need to do all we can to make sure people looking for a really great weekend away take a look at us. We are very confident that Worthing really has something to offer which is reflected in this vibrant campaign."
An increasing number of London-based media outlets are recognising Worthing as a visitor destination with articles appearing in the Metro, Guardian and The Sunday Times. The latter placed Worthing in its "summer hot list" this year reporting the town "has been on the up for a while now" and predicting it was "ready to make a splash" in 2022.
The most recently available figures pre-lockdown produced by Tourism South East and Destinations Research show that between 2016 and 2019 the total value of expenditure by visitors to Worthing increased by nine per cent totalling £148.9 at the end of the period. Over the same period, day trip spend has increased by 11.5% which the Time For Worthing team wants to build back towards post pandemic.
The Time For Worthing place brand was launched by the council and other partners in 2020 and aims to capitalise on the growing attraction of the borough as a place for businesses to invest, individuals to relocate and tourists to visit