Back In Business: V2 Radio are encouraging you to Shop Locally in Sussex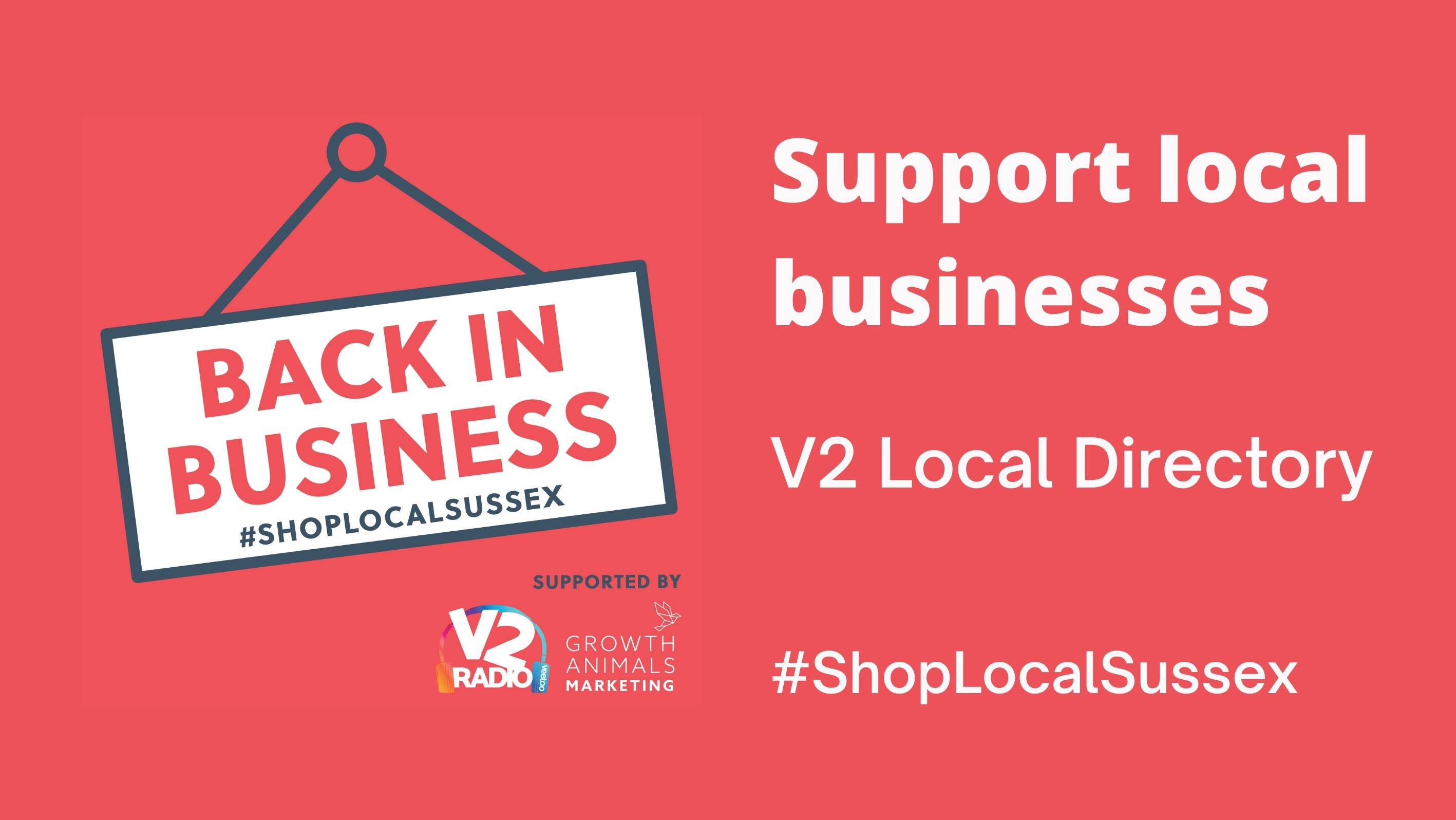 There's finally a light at the end of the tunnel and a glimpse of normality on the horizon as we inch out of lockdown. The last year has been an incredible struggle for all of us, especially the small business owners who make Sussex such a wonderful place to live.
V2 Radio has partnered with the local marketing company, Growth Animals, to encourage the people of Sussex to #ShopLocalSussex in order to support our local independent businesses. The Back In Business campaign launches on Monday the 29th of March 2021 and will highlight and celebrate the huge array of vibrant small and independent businesses we are so lucky to have in Sussex. It is more important than ever to support and build back our local communities and boost the Sussex economy.
How does choosing local support the community?
Did you know that choosing local businesses is a fantastic way to support your local community and boost the economy?
Here are our top 5 reasons why you should #ShopLocalSussex.
It makes a huge difference to the livelihoods of small businesses recovering from lockdown restrictions.

It reduces our carbon footprint as independent businesses often source goods locally.

Shopping locally pumps money into the local economy. For every £1 spent locally, 68p is put back in the local economy.

It maintains and creates jobs in local communities.

A thriving high street is the key to boosting the potential of our local towns and villages.
The Spirit of Sussex
Alex Berry, Managing Director of V2 Radio, is keen to use the V2 platform, which reaches thousands of listeners across Sussex each month, to support local commerce, as he and the V2 team know first-hand the challenges faced within the past year.
Alex said "We were adamant that the sense of spirit, morale and community support lived on through the means of proper local radio. And now we've started to achieve that, we can use our platform to support other local businesses and charities with their messages".
How you can get involved
Visit our Local Business Heroes page to submit your recommendations of the best Sussex businesses, we'll share them across the airwaves to spread the word.
Give shout outs to the local businesses you love, tag V2 Radio and use #ShopLocalSussex and we'll share it on social media.
Visit the V2 Radio Local Directory, and discover all of the amazing local businesses we have in Sussex.
Sign up to the V2 Radio newsletter for exclusive news from the local area and get alerted for competitions and giveaways we are running.

Are you a local business interested in getting involved in the campaign? Visit the Back in Business page and add your business to the Local Directory.