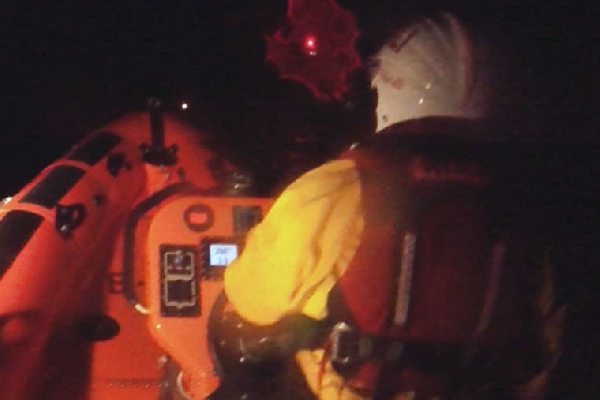 Credit: RNLI
They are reminding people of the phrase 'float to live'
As the nation sat down at 8pm on Saturday 3 July to watch the Euros 2021 football match between England and Ukraine, the volunteer crews of Littlehampton's lifeboat station had been paged to search for a missing person who may have entered the water near Goring.
At 7.47pm HM Coastguard requested that the station assist in the search for a man who had been reported missing, having last been seen around 5.30pm near Sea Lane in Goring-by-Sea.
Littlehampton crews were paged and at 7.59pm B-Class lifeboat Renee Sherman launched heading eastwards along the coast to perform a nearshore search, arriving at the location of the last reported sighting by 8.23pm. Crew who had assisted in the launch of the first lifeboat offered to join the search in the station's D-Class Ray of Hope, arriving on the scene at 8.32pm.
Shore parallel search patterns were undertaken by both boats using searchlights and two hours later, at 10.31pm, the casualty was located just to the west of Goring - floating on his back and calling to the lifeboat volunteers. A crew member from each vessel entered the water to stabilise the casualty and the Search and Rescue helicopter R175 that was assisting in the search was tasked to recover the gentleman from the water for immediate transfer to St. Richard's Hospital in Chichester.
Both of Littlehampton lifeboat station's boats were back at the boathouse at Fisherman's Quay by 11.20pm and all of the RNLI volunteers were ecstatic at the positive outcome of the search.
Nick White, Lifeboat Operations Manager at Littlehampton and Deputy Launch Authority for this incident, said:
"The RNLI promotes #FloatToLive as a way to survive in the water if you are in difficulty. The gentleman we rescued this evening had done exactly that and called for help when our lifeboats came near. Together with our colleagues in partner agencies Littlehampton, Shoreham and Selsey Coastguard Rescue teams, Sussex Police, HM Coastguard, and the NHS a successful multi-agency search was implemented. Events such as this are why the RNLI charity exists and why our volunteers give up so much of their free time and energy to save lives at sea. The whole station was elated, it was a great result."